Uncategorized
Tax Changes Aren't Helping Hardworking Americans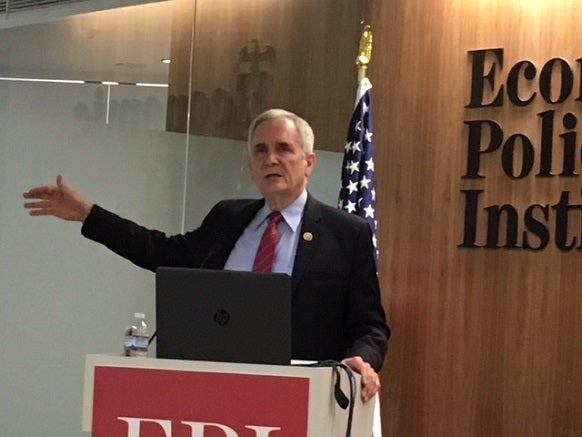 The nation's new tax law is a job killer that will exacerbate the country's income divide and will hamper infrastructure investment efforts, lawmakers and tax experts agree.
Speaking at an Economic Policy Institute event this week, House members and academic authorities stated that Congress' so-called landmark legislative achievement this term is nothing but a ruse that will hurt working people while further enriching the corporate class.
"The tax law is the single most expansive rule that has been put in place in the last quarter century to exacerbate income inequality," Rep. Rosa DeLauro (D-Conn.) said. "Republican claims that tax law will produce jobs, jobs, jobs is fake news."
She noted the tax changes encourage the outsourcing of jobs overseas. Meanwhile, more than two thirds of the tax savings by corporations are being used for stock buy backs instead of paying their workers more. "The country doesn't know what this tax bill has done to their lives in terms of jobs," DeLauro added.
Another overlooked element of the measure is that it won't encourage much-needed U.S. infrastructure investment. Instead, Rep. Lloyd Doggett (D-Texas) said, many corporations are likely to move operations overseas.
"This Republican majority is guilty of false and misleading advertising,' he said. "The door is wide open to continue off-shore tax dodging."
Kimberly Clausing, an economics professor at Reed College, said corporations will see a $620 billion tax cut over the next 10 years because of the legislation. But it is not likely to have a dramatic effect on U.S. competitiveness, and there is no reason to believe it will fuel investment. "A vast majority of economists believe these tax cuts were oversold," she said.
Rebecca Kysar, a law professor at Brooklyn Law School, agreed. "Given the enormous gamesmanship … in the end, you could say this was a lost opportunity," she said. "We need to think a bit more about ambitious reform."
Workers deserve policy changes that put more money in their pockets, but it is clear the new tax law doesn't do it. While promises were made by some elected officials, corporate America isn't following through. Hardworking Americans are left to foot the bill instead.
« Previous
Next »