Teamsters Back Legislation Beefing Up Collective Bargaining, Organizing Rules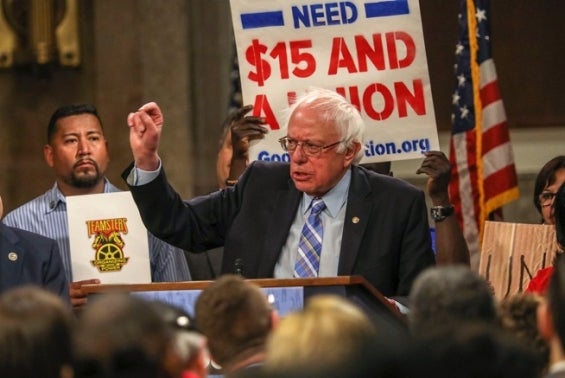 (WASHINGTON) – The Teamsters are endorsing legislation introduced by Sen. Bernie Sanders (I-Vt.) today that would enhance the ability of workers to organize and fight for better wages, benefits and working conditions on the job.
The Workplace Democracy Act would ensure more hardworking Americans become part of the middle class by making it easier for workers to join a union. Besides repealing so-called "right-to-work" (RTW) laws in states across the U.S., the measure would halt intimidation tactics instituted by many companies that are trying to stifle unionization on their job sites.
Jose Ramirez, a former XPO Logistics driver from Aurora, Ill. who was fired for his union activity, said during a Capitol Hill press conference today that the bill would prevent businesses from bullying worker who are trying to organize. "Companies like XPO use fear and coercion to scare their workers from forming their own union," he said. "This bill would protect workers' federal right to organize and ensure that what happened to me couldn't happen to them."
Beyond ending RTW, the bill would 1) allow unions to organize through a majority sign-up process; 2) enact first contract provisions to ensure companies cannot prevent a union from forming by denying a first contract; 3) expand the definition of employer to limit workers being classified as independent contractors; 4) allow for secondary boycotts and picketing; and 5) expand and update the "persuader rule" to limit the use of outside union busters.
Teamsters General President Jim Hoffa said the legislation would stem rising inequality in this country. "Union workers on average make $11,000 more a year than non-union workers," he said. "They also have better health and retirement benefits and are safer on the job. If lawmakers want to expand the middle class, this bill is the vehicle to get it done."
Founded in 1903, the International Brotherhood of Teamsters represents 1.4 million hardworking men and women throughout the United States, Canada and Puerto Rico. Visit www.teamster.org for more information. Follow us on Twitter @Teamsters and "like" us on Facebook at www.facebook.com/teamsters.
« Previous
Next »