Uncategorized
Four Teamster Candidates Advance to Nov. Election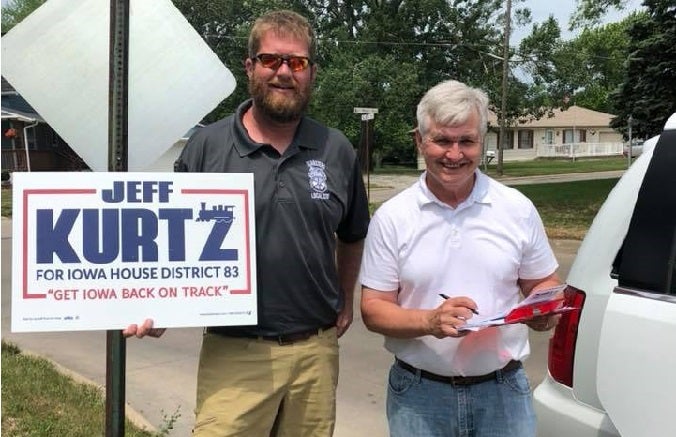 This week's primaries were successful ones for the Teamsters, as four candidates with ties to the union advanced to the November general election.
Most of the action was in Iowa, where three of the candidates clinched the Democratic nomination for seats in the Iowa House. Headlining the effort was Jeff Kurtz, who won a three-way primary race for the District 83 seat with 56.6 percent of the vote. He'll face off against Republican Jeffrey Reichman in the fall, with hopes of replacing state Rep. Jerry Kearns (D), who announced he would not seek another term earlier this year.
Kurtz is the former President of the Brotherhood of Locomotive Engineers and Trainmen (BLET) Division 391, part of the Teamster Rail Conference. He also served as Iowa State Legislative Board Chairman from 2004-2014, where he lobbied extensively for rail safety at both state and federal levels. He retired from the Burlington Santa Fe Railroad in 2014 after working there more than 40 years.
He has stressed the need for economic development and improving public schools and public services as part of his campaign.
Two other Teamsters will also appear on the November ballot. Rennie Montgomery ran uncontested for the Democratic nomination for her District 96 seat. And Christian Andrews won his uncontested primary for House District 95.
Montgomery will face incumbent state Rep. Lee Hein in the fall. She is a former Monticello City Councilwoman who currently works for the Manchester Police Department as a dispatcher for the Delaware County Communications Center. She is also the union steward for Teamsters Local 238.
"My top priority will be asking the residents of Delaware and Jones Counties what their needs are at the state level," she said in a statement announcing her campaign. "I'll work to expand state support for our local schools. I'll also work to keep health care and mental health services affordable and available locally as well as find new ways to add value to the crops of our local farmers."
Andrews, meanwhile, will face GOP incumbent Louie Zumbach in November. He is a public works employee for the city of Mount Vernon and Local 238 member who said on his website that he is running for office because he believes his district is being overlooked.
"For the past year and a half, the Iowa legislature has underfunded education, blocked minimum wage increases, reduced workers' benefits and taken collective bargaining rights away from the public employees who serve us all," he said.
And in New Jersey, Local 469 business agent Vincent Minichino will be one of two Democrats on the November ballot attempting to fill two spots on the Ocean County Board of Chosen Freeholders currently held by Republicans John Bartlett and Gerry Little.
« Previous
Next »