Bringing High Pay to Workers in the Cannabis Industry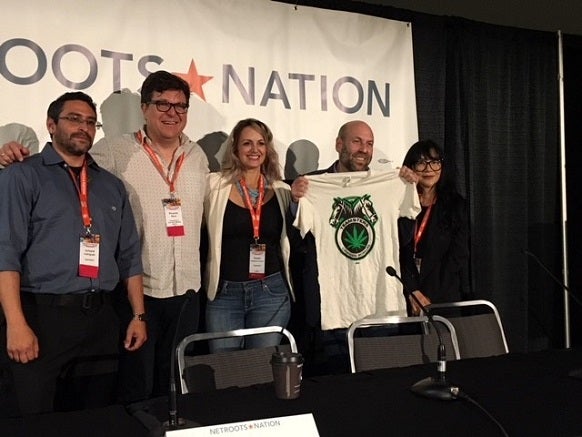 NEW ORLEANS – Teamsters joined with experts today to discuss the future of the fledgling cannabis industry and what it means for jobs in the wake of additional states legalizing the distribution and sale of the once-illegal product.
As part of a panel at the annual Netroots Nation conference here, union leaders, workers and industry authorities agreed that hundreds of thousands of hardworking Americans could benefit from the ground-up creation of a now legitimized industry. But that will only happen if unions and elected officials can come together to craft rules that bring transparency to the process.
"This industry was an all underground industry until recently, and the Teamsters are the enemy of the underground economy," said Barry Broad, the Teamsters' chief lobbyist in California. "We want people to pay their taxes and get Social Security."
The union also wants workers to have protections when it comes to health, safety and law enforcement, issues that continue to be a challenge when state and federal laws run counter to one another and there is no uniform standards.
Richard Rodriguez, a distribution driver with RVR Distribution in California and a Local 853 member, experienced that first hand when he was arrested while transporting marijuana. He was taken into custody and held for 15 hours. Ultimately, he credited the Teamsters helping to sort of the issue and having the charges dropped.
"No one has ever offered me that kind of protection," he said. "We need the Teamsters because they have those relationships."
Ophelia Chong, founder of Stock Pot Images and a long-time figure in the cannabis industry, said unions like the Teamsters also play an important role in offering support for female workers, who traditionally have faced harassment and even fell victim to sexual assault.
"I would like to see a lot of women in the cannabis industry become Teamsters because then we are breaking two stereotypes – the Teamsters stereotype and the stoner stereotype," she said.
That effort is easier in California, where the cannabis industry agreed to a labor peace agreement that requires businesses to remain neutral in worker organizing efforts. But it is more of a challenge in places like Colorado, where the law is not as union friendly.
Ricardo Baca, a former cannabis journalist with the Denver Post who is the founder and chief executive officer of the Grasslands public relations firm, noted an effort to organize a Pueblo, Colo. marijuana business in 2015 was snuffed out and led to the firing of the main employee involved in the effort.
That said, he doesn't expect that to stop industry organizing efforts across the country. "This is the only time we will experience this kind of shift in the drug industry," he said. "It's kind of a magical moment."
Going forward, there are many challenges the cannabis industry faces. Federal banking rules force it to remain largely a cash-based business, which leaves it an easy target for criminal activity. But that is not likely to change in the near term.
"It's not good. It's not good for the workers; it's not good for the employers," Broad said. "It's huge, irrational inefficiency."
That's why it's so important for workers in this nascent industry to join a union like the Teamsters.
"The biggest thing about having a union is I know I have a career, not a job," Rodriguez said. "I have health insurance. I have a pension."
« Previous
Next »