Safeway.com Home Delivery Drivers Ratify Teamster Contract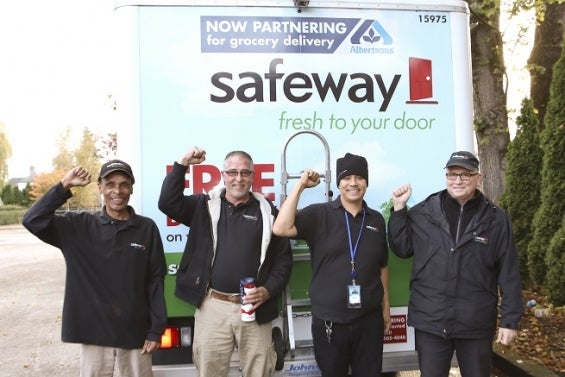 After nearly a year of negotiations that led to a strike authorization vote, a group of 90 grocery home delivery drivers working for Safeway.com voted overwhelmingly to ratify their first-ever Teamster contract last night. These drivers, of whom 60 are Local 174 members and 30 are Local 313 members, are now full-fledged Teamsters for the first time in their careers as Safeway drivers.
The new agreement will bring many improvements to the working conditions and lives of these drivers. Wages will increase across the board, with some of the lowest-paid drivers seeing double-digit percentage increases. The group will also finally receive affordable health care, which most did not previously have access to as they were held to part-time hours and the costs were prohibitive. For many, this will be life changing as they can now qualify and afford health care for not only themselves, but for their families as well.
Another exciting benefit for the group, and one that is unusual for a group ratifying a first contract, is that they will be joining the Western Conference of Teamsters Pension Plan. This will begin the process of building a secure retirement with a defined benefit pension plan – which is also nearly unheard-of for "part-time" workers.
As for improvements to working conditions, they are numerous and include better scheduling rules, daily guarantees, hard limits on the length of unpaid breaks between shifts in a given day, and dramatic improvements to safety. Safety and vehicle maintenance issues had previously been at the forefront of drivers' minds.
"I can't wait to work under this new contract," said Safeway.com driver and Bargaining Committee member Michael Fanning. "There are so many improvements … the difference in our day-to-day life on the job is going to be like night and day. I'm psyched."
Jeff Frazer, a 12-year driver and Bargaining Committee member, was equally excited. "This contract means security. We finally have some security in our schedules, in our jobs, and in our retirement. We've never had that before. This is huge."
Now that the agreement is ratified, these drivers are ready to head to work and enjoy their new lives as Union members.
"This is a great day for the Teamsters and an even better day for these Safeway.com drivers, who were the first in the country to organize and are now the first in the country to work under a Teamster contract," said Teamsters Local 174 Secretary-Treasurer Rick Hicks. "I am proud of these drivers for their courage – courage to vote 'yes' to join the Teamsters, courage to vote 'yes' to authorize a strike, and now the sweetest part: to vote 'yes' on a contract that will improve their lives."
Founded in 1909, Teamsters Local 174 represents 7,200 working men and women in the Seattle area. "Like" us on Facebook at www.facebook.com/TeamstersLocal174.
« Previous
Next »