Teamsters End Strike at Republic Services in Atlanta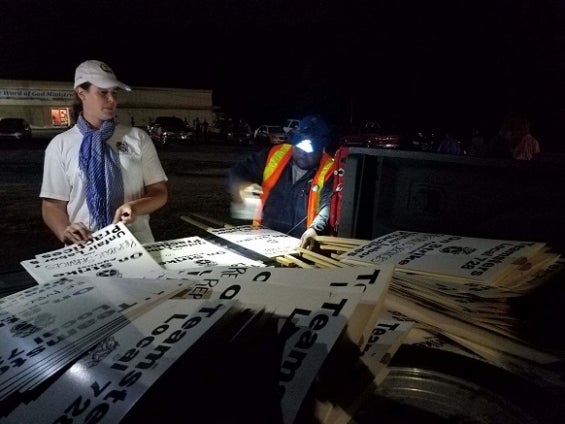 (ATLANTA) – Just after midnight on Friday, Aug. 10, sanitation workers employed by Republic Services [NYSE: RSG] walked off the job to protest the company's violations of federal labor law.
The 120 drivers, helpers, mechanics and dispatchers who are members of Teamsters Local 728 in Atlanta allege that Republic broke federal law when it took work away from full-time mechanics and outsourced it to subcontractors.
The workers ended their strike at 3:30 pm on Friday.
"We wanted to send a wake-up call that we will not stand for the company's violations of our rights," said Marcus Redding, a mechanic at Republic Services in Atlanta. "We planned from the beginning that the strike would only last one day.
"It is a hardship for customers when their trash isn't picked up, which is why we returned to work after one day," Redding continued. "Our hope is that Republic changes its behavior so that we are not forced to take additional actions."
"Republic's plantation mentality has to end," said Randy Brown, President of Local 728. "The company cannot treat its Atlanta workers like indentured servants. These frontline employees put their lives on the line every day to protect the public health, in the fifth-most dangerous job in America, and they deserve dignity, respect, and a fair return on their work."
Brown continued, "In my opinion, Republic has been breaking the law in an attempt to bully its workers into accepting unaffordable health insurance."
Dave Thomas, commercial driver at Republic in Atlanta, said, "Our job is to protect the public health and keep our communities clean. When Republic broke the law and wouldn't listen to us, we felt we had no choice but to go on strike as a wake-up call. We want to protect the
public, which is why this was a short strike. We care about the community, but Republic doesn't seem to. We are asking the company to change its behavior so that we don't have to do this again."
Republic/Allied Waste's total revenues were more than $10 billion in 2017. It received $190 million in the 2017 corporate tax cut. Microsoft founder Bill Gates is the primary shareholder of Republic stock. Gates owns approximately 33 percent of the total worth of the company. Michael Larsen, Gates' investment manager, sits on Republic's board of directors.
« Previous
Next »