Uncategorized
In Pa., Teamsters Have a Plan to Get Members to Vote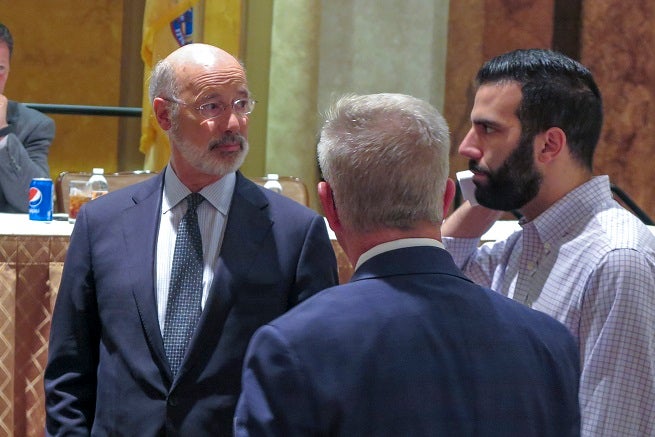 ATLANTIC CITY, N.J. – There is a lot at stake in Pennsylvania when it comes to the November elections. Don't believe it? Just ask the state's own governor, Tom Wolf.
Wolf, who is running for re-election himself, spoke to Philadelphia-area Teamster leaders during Joint Council 53's annual meeting in this seaside city this week. And although polls are looking good for the current governor and many of his fellow Democrats, he told union officials he needs their members to take the final step to make it happen – vote.
"This election is probably more important than any one in my lifetime," he said. "The stakes are really, really high for everyone in this room and everyone in Pennsylvania."
Noting he was the only Democratic governor running for re-election in a state won by the President in 2016, Wolf added, "what happens in Pennsylvania, there will be a lot of eyes on us just seven weeks from today."
The governor received a warm reception from Teamster leaders in attendance, who repeatedly rose to their feet to give him a standing ovation as he talked about the need to build an economy in Pennsylvania that will allow workers and their families to flourish. But the cheers reached their apex when Wolf reiterated his previous stance that he would stand as a check against so-called right-to-work legislation in the state.
"If anything like right to work comes to my desk, I'm going to veto it. Is that alright?" he said to thunderous applause. He paused before joking, "I kind of thought that was going to be the reaction."
But JC 53's meeting was not a Wolf campaign event. It was an opportunity for JC 53 President Bill Hamilton and other top union officials to motivate their memberships to ensure they elect candidates who will stand with workers.
Hamilton, who is also President of the Pennsylvania Conference of Teamsters, said he is confident union members will show up to vote in November because they understand what will happen if they don't.
"People have become much more vocal in the past several months," he said. "You can see a wave coming. I won't call it the blue wave, but I will call it a new wave of people disenfranchised with the people in Washington, and it filters down to the states."
Hamilton said he is hopeful that Wolf will have political coattails that will help elect other pro-worker candidates further down the ballot. But the union won't rely on hope alone. It is ramping up a get-out-the-vote program that will place boots on the ground to motivate members to get to the ballot box on Nov. 6.
"We are hitting hard and hammering on member to member, house to house. Every local in this joint council is expected to have at least one lost-timer on the street," he said. "We are putting people out there to visit our installations on a daily basis, members talking to members who are well-versed on the issues and the candidates in those districts. And I believe that makes the difference."
« Previous
Next »