Power, Pride and Persistence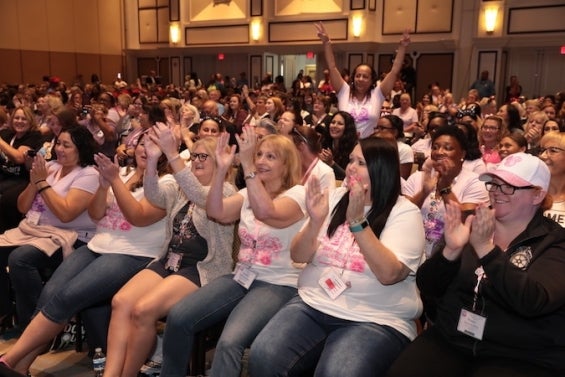 The final days of the Teamsters Women's Conference continued with workshops covering everything from how to design materials to shop steward training to the role of the #MeToo movement and the incredible impact it's having in today's workforce. Local 700 President and Director of the Women's Conference, Becky Strzechowski, also announced that next year's Teamsters Women's Conference will be in Montreal, Canada.
Teamsters Political and Legislative Action Director Christy Bailey updated those in attendance on the current state of the nation and the union. She covered the most recent decisions from Congress and the Supreme Court; how the union is working hard on pension reform; the fight against right-to-work legislation; the critical importance of voting; and the impact women are making leading up to the 2018 midterm elections.
"Women are rising! We are marching, rallying, we're registering to vote. We are voting in record numbers and you know what else? We are running for office," Bailey said.
The audience also heard the empowering voice of Passenger Transportation Division Representative Stacey Murphy who riled up the crowd in her opening before updating attendees on the Division's progress. "It has been a top priority of the Division and the Teamsters, under General President Hoffa's leadership, to bring other major bus companies in line with FirstGroup," said Murphy.
Sonia Axter, Managing Director of Ullico's Infrastructure Fund, shared her experience as a woman in a male-dominated industry.
The session came to a close with an all-woman panel which touched on various issues that women and the union are facing today, including how they've used their life obstacles to change the culture and make a difference in the world. The panel included women like Jessica Yance, a steward from Local 210, Business Agent and Organizer Lindsay Dougherty, who spoke about the rise of the #MeToo and #TimesUp movement in Hollywood and its mission to give a voice to all workers who have suffered discrimination and assault in the workplace. Other panelists included Annie McPhail-Scammell, TITAN Operator of Local 245, and Joanne Kilpatrick, a breast cancer survivor and member of Local 773 for over 30 years.
Kilpatrick ended the panel session with her inspiring and emotional story on her breast cancer journey and what she endured in the workplace along the way. "There's no good reason why I'm standing with you here today, except if I can get one woman or man to go get a screening and mammography testing, it will be all worth it," she said.
"In 2013, my screening came back normal but then in the second paragraph of my results it talked about cancers that are non-detectable by mammography tests. So, in July 2013, I had a physically changed breast. I had no lump, no pain, nothing. I went to my family doctor who sent me to a breast specialist, who then did a biopsy.
"On July 27 at 9 p.m., I got a call and was told I had lobular carcinoma breast cancer. I had to sit my three children down and tell them their mom has breast cancer.
"I called my business agent and told him I'm really sick, but I only have 10 sick days on the books, and I have to start treatment and it's not going to end for six months, and I don't know what I'm going to do. I was frightened. And Central Administration in my school district stopped sick banks for teachers. And where I work, if they're not giving sick banks to teachers they're sure as hell not giving sick banks to secretaries.
"But my local had a private meeting and within two weeks I had 100 sick days banked for me. And I want to publicly thank two of those women here today, and all of the other 85 women who got behind me. Because I am cured, and I am well. Thank God I have a union!"
It is inspiring stories like Kilpatrick's that show the strength and the unrelenting tenacity of Teamster women. And it shows that when women come together, they are unstoppable.
« Previous
Next »