Uncategorized
S.D. XPO Workers Share Stories of Broken Promises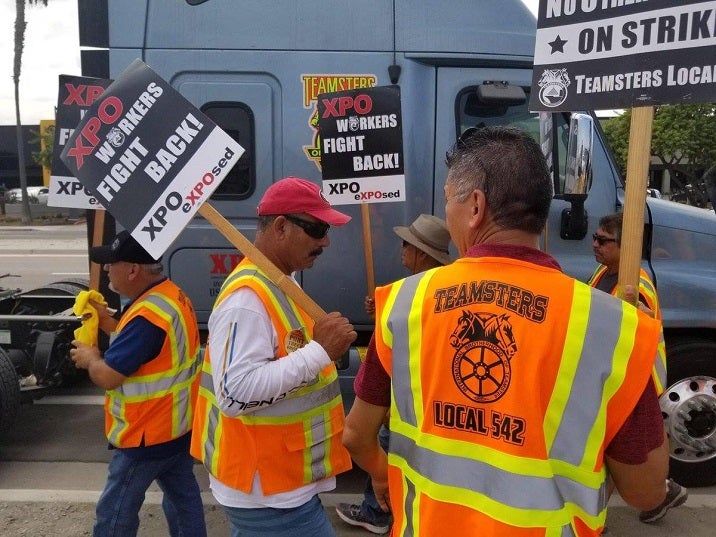 SAN DIEGO – Scores of XPO workers here near the U.S.-Mexican border have spent the last couple of days protesting their treatment on the job in front of the company and one of its clients. But it's the stories they tell that stick with you most.
Mostly immigrants, they sought to attain the American dream when they entered into lease-to-buy trucking agreements with XPO. But like many of their fellow drivers who work out of the ports of Los Angeles and Long Beach, the model has not proved to be sustainable.
Despite working nearly every day and some 80 hours a week or more, many couldn't make the finances work. Charges for the truck, fuel and repairs left these drivers with little to nothing in take-home pay each week. For many, it ruined their lives.
XPO San Diego driver Alberto Rivera said he was struggling to make ends meet after a year of entering the truck lease agreement. Then his truck broke down. He couldn't afford the repairs. Now he finds himself homeless while he drivers someone else's truck.
"I don't think it's fair that any of the drivers should have to live like I'm living now," he said during a rally held outside XPO client Toyota's land port facility near the border on Tuesday. "But I'm not going to stop, I'm not going to stop raising my voice even though it may get me fired. I have to raise my voice and we all have to raise our voice to make them stop."
It was that passion that was fueling many of them to spend hour-after-hour walking the strike line during the early part of this week. XPO driver Benjamin Alfaro said he and his fellow workers are picketing because they are being taken advantage of by the company.
"I'm sick and tired of the abuses in wages from XPO," he said. "We don't have any job security and our conditions are terrible."
To a man, they were confident that by aligning with the Teamsters, they had an opportunity to end their tenure as misclassified workers and become XPO employees with fair pay and benefits. Ron Herrera, a vice president with the Teamsters and Local 396 Secretary-Treasurer, told them it is important that they stand up and challenge XPO.
"We don't have to look at them like they're plantation owners," he said. "You have rights. We have to see that fight in you. You don't have to be afraid."
Assemblywoman Lorena Gonzalez Fletcher, who represents the area were workers picketed, told them they couldn't have chosen a better ally in their fight for justice.
"If I'm going into battle, I want to know I'm with a union that's going to have my back," she said, "and I know every time that the Teamsters are going to have your back. So together – together – we are going to win this."
« Previous
Next »