Nuns, Teamsters, Philadelphia City Government and Vanguard All Pressure AmerisourceBergen on Opioids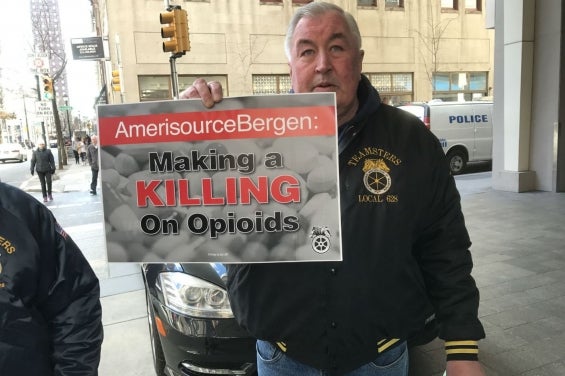 Published in the Philadelphia Inquirer
CEO Steve Collis received a $1.6 million pay increase last year, earning $11.5 million in 2018.
But if the city of Philadelphia gets its way at the company's annual meeting Thursday, Collis' paycheck would be calculated differently going forward: His pay would be cut if the Chesterbrook-based drug distributor paid out large sums to settle lawsuits about the opioid epidemic.
"We believe senior executives should not be insulated from legal risks," the city's pension board said in a shareholder proposal to the company, especially "given the potential reputational, legal and regulatory risks [AmerisourceBergen] faces over its role in the nation's opioid epidemic." The firm has asked stockholders to vote against the proposal.
That measure will come up for a vote Thursday, as company executives and investors convene at Center City's Sofitel Philadelphia hotel. It's a reflection of the shareholder rpressure around opioids that's been building in AmerisourceBergen's own backyard — where a proposal backed by local nuns picked up support from the likes of asset managers Vanguard and Charles Schwab. And the Teamsters and the state treasurer's office successfully advocated for the company to split its CEO and board chair positions, which they argued would improve governance.
"I am encouraged that we are seeing acknowledgement from the industry that changes need to be made to save lives," state treasurer Joe Torsella said in a statement. The treasurer's office also supports the city's proposal on legal costs affecting executive compensation.
The city's pension board is "acting as a fiduciary and a good 'corporate' citizen … with an eye toward requiring companies to ensure that its corporate officers are paid an appropriate amount" when considering any costs related to the crisis, spokesperson Mike Dunn said.
Nationwide, more than 47,000 people died in 2017 from opioid-related overdoses, according to the CDC. In Philadelphia, 1,217 people died from drug overdoses, 88 percent of them involving opioids, according to the city's health department.
More than 30 Pennsylvania counties have filed lawsuits against drug distributors and manufacturers. The companies are fighting about 1,500 lawsuits related to the opioid crisis brought by counties, tribes, and other groups. Those suits are largely consolidated in federal court in Cleveland, where the first trials are expected to begin in October. Hundreds of suits, meanwhile, are sitting in state courts and at least eight had their own trials scheduled as of January, according to the Pew Charitable Trusts.
AmerisourceBergen, in its proxy statement, said that it is "actively working" to help solve the opioid epidemic, but that it does not view the city's proposal as an "appropriate response." A spokesperson said the company and stockholders are "best served if the board maintains the flexibility" to assess whether or not legal costs should affect compensation.
Just two years ago, Teamsters protested outside AmerisourceBergen's shareholder meetingin Philadelphia, part of the efforts that led to the formation of the Investors for Opioid Accountability.
The coalition now counts as members 54 institutional investors that hold more than $3.5 trillion in assets, and its members have notched a series of wins, aimed at companies including McKesson and Cardinal Health (both distributors), Endo International (which has its U.S. headquarters in Malvern), and AmerisourceBergen.
"The wave of changes we're seeing are somewhat unprecedented in the shareholder world," said Michael Pryce-Jones, a senior analyst for the Teamsters.
Of the "Big Three" drug distributors — which control more than 80 percent of the market for moving pharmaceuticals from manufacturers to pharmacies and hospitals — AmerisourceBergen was the last to agree to the board chair-CEO split, leaving the company "scrambling to catch up with the reforms at the other drug distributors," Pryce-Jones said.
The city's shareholder resolution to tie legal costs to pay is a new type of proposal, said Maureen O'Brien, a corporate-governance consultant to the pension board. "Shareholders want to be sure that executives are being incentivized to create good returns," she said, "but also not to get the company into situations where they can create real risk to shareholders."
Opioid maker Teva Pharmaceuticals, responding to a similar proposal, agreed not to exclude any legal settlements when calculating the metrics that determine executive pay, O'Brien said.
AmerisourceBergen announced in its shareholder proxy statement last month that it will split the job of board chair from the CEO once Collis retires. The spokesperson said the company's board "regularly reviews its leadership structure" and that in 2018, the company "sought input from a significant number of shareholders … and duly considered their feedback in our governance practices."
The proxy also laid out that AmerisourceBergen plans to produce a report by Sept. 30 on its "role in the supply chain" and the board's oversight of "business risks related to the distribution of opioid medications."
The Sisters of St. Francis of Philadelphia proposed the report at last year's shareholder meeting, where it captured more than 40 percent of the vote, said Tom McCaney, the order's associate director of corporate social responsibility. Vanguard and Charles Schwab funds voted for the proposal — and against management's recommendation.
For a first-time proposal to capture that much of the vote, "the shareholders spoke pretty loudly that this is a huge issue," McCaney said. The sisters filed the proposal again for this year's annual meeting, but withdrew it when they saw the progress that AmerisourceBergen made toward producing an oversight report.
"We wanted to know from the board what their strategy was going forward, because there's nothing static about this – it's either going to get worse or get better. It's not going to stay the same," McCaney said. "And in the meantime, people are dying."
« Previous
Next »