A Silver Lining Amidst Every Dark Cloud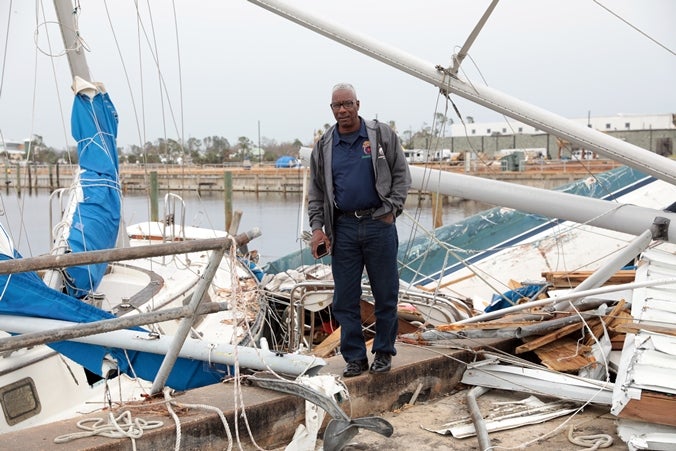 Jerry Julian is a driver at UPS and a member of Local 991 in Mobile, Ala. He and his wife decided to stay in Panama City, Fla. when Hurricane Michael hit the Florida Panhandle, a decision he said he would never make again.
His house was less than five miles from the center of the hurricane, and as he and his family hid in his daughter's room, they watched the torrential winds tear the roof off his house, giving them a clear view of the violently thrashing sky. They fled—first to his own bedroom, then his son's—with the hurricane ripping off more of the roof above them every time they relocated, as if the storm was chasing the family. When they reached the living room, the hurricane relented, and the family realized that they were finally safe.
"We made it, that's the most important thing," Julian said. "Nobody was injured and all of us are still alive. We're thankful for that."
Reporting for Duty
Last year's string of devastating hurricanes—Harvey, Irma then Maria—tested the strength and unity of the Teamsters Disaster Relief Fund like nothing in recent memory, but from these tragedies, they emerged stronger than ever.
The Teamsters partnered with the Florida AFL-CIO to put together a world-class labor coalition to help people in the Florida Panhandle recover after Hurricane Michael, and the results were noticed.
"The unions here stepped up like we had never seen before in terms of volunteers and making things happen on the ground," Florida AFL-CIO President Mike Williams said. "Without the Teamsters turning out the way that they did, we would not have had a program in the state of Florida that was as successful as it was."
Local 991 Secretary-Treasurer Jim Gookins represents workers in the Panhandle who were hit hardest by Hurricane Michael. He emphasized that the disaster relief program extended to the entire community.
"We're here to reach out to our membership, but we're helping nonmembers as well," Gookins said. "We're here for anybody that needs our help. Hopefully the good-faith effort will lead to some people who are not members yet to see the value of who we are and what we are about."
Joint Council 13 Human Rights Coordinator Roy Gillespie led the disaster relief effort for the Teamsters following Hurricane Michael.
Gillespie said that on one occasion, the disaster relief team was handing out cash cards to UPS workers who had been affected by the disaster in Panama City, and the workers were so grateful for the help that they signed up as members immediately.
"We've been working and people know that the labor movement is out here; people know that the labor movement cares," Gillespie said. "We didn't come out here to run a campaign to sign up new members, but we're getting them because the workers out here are starting to see what we can do."
Salt and Pepper
Two of the volunteers in the disaster relief coalition were Local 79 Recording Secretary Ken Williams and Trustee Larry Dupree, better known as Salt and Pepper.
Williams (Salt) and Dupree (Pepper) made a name for themselves among organized labor in Florida thanks to their passionate political advocacy on behalf of their fellow members in Tallahassee, the state capital. Florida AFL-CIO President Mike Williams called Local 79 President Brian Rothman to let him know that their help was needed in the Panhandle, so Salt and Pepper made the trip from Tampa Bay to join the disaster relief labor coalition.
"One of the things that surprised me was that even though these people have lost everything, they were still happy enough to help each other out," Dupree said. "One person lost a roof, another had a tree fall on his house. Still, when we went to deliver supplies, they both said, 'I'm not taking anything more than exactly what I need because it's important that other people who are worse off than I am have resources as well.'"
"Living in Florida, it was overwhelming emotionally because any of us could be in their position at any given time," Williams said. "That's part of the reason we're out here. We want to help those in need today so they may return and help us in the future. We've even gotten a few ideas that we can use for an emergency response plan in case this situation hits us back home."
Life After Loss
Jerry Julian wasn't the only UPS worker out of the Panama City terminal who experienced a devastating loss following the storm. His co-worker is Brian Stuart, a second-generation Teamster whose father was the first UPS worker to retire from Panama City. Stuart had his parents and brother stay with him during the hurricane, and his home was damaged extensively.
Two days after the storm, things went from bad to worse when his father passed away in his living room.
"He was the finest man I ever met," Stuart said.
Amber Cox works with Julian and Stuart. She drove 37 miles to Compass Lake, north of Panama City, to wait out the storm. Even there, though, they experienced the unforgiving winds of Hurricane Michael. Cox and her family hid out in their bathroom for four hours waiting for the storm to subside.
When they went outside, they couldn't leave because the road was blocked by debris.
"We spent about a day and half getting the roads cleared in case someone needed medical assistance—just neighbors helping neighbors," Cox said. "At a time like this, it's important that we come together as a team to support one another, from the smallest of things to the largest of things."
One thing that all of the UPS workers in Panama City said was that they were grateful for the Teamsters' presence in the aftermath of the storm. Kristal Ledger also works at the UPS terminal.
After her husband lost his car and their home sustained damage, she was grateful for her union membership.
"The Teamsters have been a blessing," Ledger said. "Missing work and going through all this, they have definitely been there to help out me and my husband in a time of despair. I appreciate the camaraderie."
Robbie Hodson, a UPS worker with 32 years of service, echoed Ledger's sentiment.
"The Teamsters have always been there, they have always been very supportive of the communities," Hodson said. "They are here for you from beginning to end because the union is the people that you work with. The body that is the union is us. It starts right here at home, and we get support all the way from the top down."
Relief Convoys
In addition to responding to the need for assistance in the Panhandle, Teamsters also unified to help out in the Carolinas after Hurricane Florence. Roughly 300 Teamster members living on the coasts of the Carolinas saw their homes damaged by Hurricane Florence, and about 1,000 were out of work during the storm.
Joint Council 13 out of St. Louis sent five trucks full of supplies to Fayetteville, N.C. after the storm. Local 776, Joint Council 25 and a number of other Teamster affiliates throughout the country also sent convoys with disaster relief materials.
"The imprint left by the path of Hurricane Florence may have left many communities broken, but the bonds of Teamster Brotherhood and Sisterhood are unbreakable," Joint Council 25 President Terrence J. Hancock said. "When a disastrous situation arises, we make a concise effort to assist and offer our support to our members and their devastated communities."
Local 391 Business Agent Keith McCorkle represents the Teamsters who were affected by Hurricane Florence, and he said that Teamsters and their employers sprang into action to help one another out in the aftermath of the storm.
"We worked with ABF, YRC, UPS Freight and others to set up terminals all over the state for distribution," McCorkle said. "We had a member whose husband owned a number of trailers, he was able to donate his trailers for the duration of the disaster relief mission. We had a member locate a warehouse that we were able to use temporarily. Members from all over the state were helping one another out by using their pick-up trucks to deliver supplies and move debris. It was a tremendous display of solidarity."
For more information on the Teamsters Disaster Relief Fund, or to donate, visit http://tdr.teamster.org.
« Previous
Next »