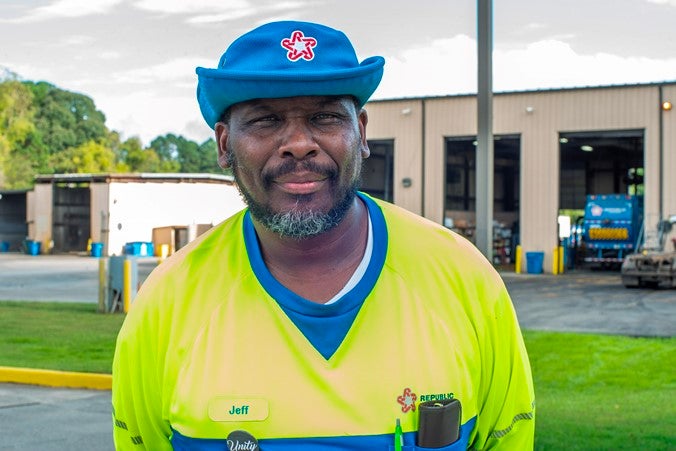 Republic Services workers at the company's Atlanta South facility were facing a tough time on the job last year. But they had a plan.
These members of Local 728 didn't just decide all willy-nilly to go out on strike. Instead, the local worked closely with the Teamsters Waste Division as well as the union's Strategic Research and Campaigns Department ahead of time to develop a strategic bargaining plan. The plan involved market research, internal organizing, community outreach and media engagement.
They then executed it with help from the Waste Division and Strategic Research and Campaigns staff.
Because of that planning and coordination, the unit's 120 drivers, helpers, mechanics and dispatchers were a united and militant workforce as they entered negotiations. They had gotten their message out to area churches, local news media and even nonunion workers at other Republic yards. And they were rewarded with a five-year contract that protects their future with the company.
The deal for the Teamster members, which included historic raises and increased job protections, could serve as a model for how the union attempts to organize other waste workers in the Atlanta metropolitan area, said Ben Speight, Local 728's Organizing Director and business agent. But it couldn't have happened without a united Teamster workforce.
Wake-Up Call
Inspired by the 50th anniversary of Martin Luther King Jr. joining Memphis sanitation workers on the strike line, members said they were standing up for dignity on the job.
Atlanta members were also aided by a coordinated campaign headed up by Chuck Stiles, Assistant Director for the Teamsters' Waste Division, that brought in Teamster Republic Services members from across the nation.
But the company initially wouldn't budge in contract talks. So just after midnight on August 10, these Republic workers went on strike to protest the company's alleged violations of federal labor law. Members noted Republic broke the law when it took work away from full-time mechanics and outsourced it to subcontractors.
A little more than 15 hours later, they ended their walkout.
"Our job is to protect the public health and keep our communities clean," said Dave Thomas, a commercial driver at Republic in Atlanta. "When Republic broke the law and wouldn't listen to us, we felt we had no choice but to go on strike as a wake-up call. We want to protect the public, which is why this was a short strike."
Contract Gains
A little more than a week later, the company and members hammered out a new contract, one that won pay for all time worked, including breakdowns and any required down time.
Additionally, Local 728 members won premium pay for extra work like self-contained compactors, carts with casters and back-door residential services. And the agreement included strong annual wage increases.
The deal also strengthens union and members' rights on the job. The Teamsters negotiated out language that previously allowed Republic Services to veto or ban the appointed union business agent.
The union will now have access to new hire orientations for membership sign up. It also expanded safety bonuses to more workers, and won non-discrimination protections for sexual orientation.
Organizing Leads
Since the ratification of the most recent Republic Services Atlanta South collective bargaining agreement, Local 728 has received more organizing leads from Republic's competitors in the solid waste industry than it has in years. It has led to Local 728 filing for an election at Republic's Cummings, Ga. yard.
"The union is responding to these organizing leads by utilizing the leadership of the existing union group to help nonunion solid waste workers gain their rights under a Teamster contract," Speight said. "The goal of the local is to have a campaign that maximizes potential union density in the Atlanta metro market over the next few years."
Thomas said other waste workers could learn a lot from how Republic workers at the Atlanta South facility unified and stood strong to reach a good agreement for workers.
"If you want respect, you have to show them you want respect, and that you will do it en masse," he said. "You have to come together, and when you come together, everyone is stronger."
« Previous
Next »