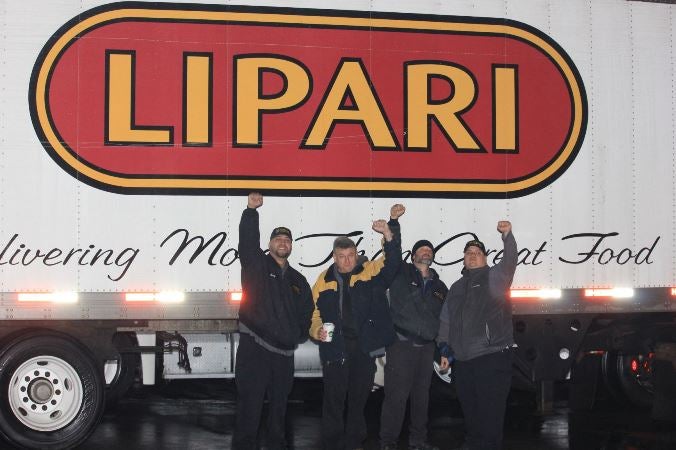 On Sept. 22, 2018, drivers at Lipari Foods in the Chicago area voted to join Local 703, the fifth organizing victory in a row at the local over a 15-month period. Following the five victories, 220 workers are now on their way toward a more secure future as members of Local 703.
The earlier victories included:
40 drivers at The Chef's Warehouse in Chicago, who voted to join Local 703 in June 2017. The workers have since ratified a first contract;
13 drivers at Euro USA in Chicago, who voted in February 2018; contract negotiations are under way;
100 workers at the Fresh Thyme Farmers Market Distribution Center in Joliet, Ill. who voted in June 2018. There are 100 workers in the unit now, but that number could increase to 200 in the near future; negotiations are under way;
40 drivers at Windy City Distributing, a beer distributorship in West Chicago, who voted in August 2018; contract negotiations are under way.
"We have been so successful organizing because we are leveraging the long-time success we have had in our core industries—wholesale food distribution, whether it's produced, or broad line grocery and food products," said Tom Stiede, Secretary-Treasurer of Local 703 in Downers Grove, Ill. "Our stewards and members have also played a pivotal role reaching out to these new members, whether it's sharing their experiences at common stops with the competition's employees or getting involved in a campaign to personally talk to non-members about the benefits of being Teamsters.
"The help we received from Joint Council 25 Organizing Director Paul DiGrazia and his staff was instrumental and also crucial in our success," said Stiede, who is also Secretary-Treasurer of Joint Council 25. "We are committed to organizing at the Joint Council level, which in turn helps our local unions build Teamster power."
Also, Stiede said Local 703 has 130 public employee members at the Chicago Parks District and, in light of the Janus decision, has re-signed every worker as members.
"We are able to do this because we make servicing our membership a priority," Stiede said. "When a local union provides excellent service and engages its members, other workers see the benefits and want to become part of the club. The member-on-member dynamic just can't be understated in these last five campaigns.
"I am so blessed and grateful for the men and women in this organization that truly believe in what we are all trying to accomplish on behalf of working families," Stiede said.
« Previous
Next »