Airline Division News, Week Ending June 26, 2019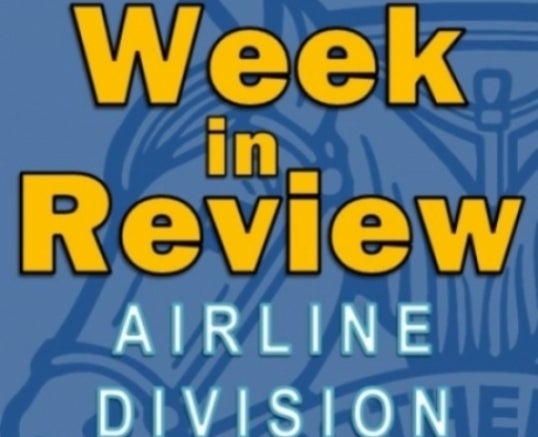 US Transportation Secretary Elaine Chao announced on Monday $57.1 million in Federal Aviation Administration grants for Texas airports, including $23.2 million for Dallas/Fort Worth International Airport and $2.6 million for Dallas Love Field Airport. "With improved transportation infrastructure in place … the airports and communities can build a better quality of life, increase safety, move people and freight faster, and create more jobs and opportunities," Chao said.
Amazon Air will begin flights to Anchorage International Airport (ANC) later this week, on June 27. According to a post ANC published on Twitter last week, Amazon Air will operate daily services to the airport utilizing its 767 freighter network.
Air Transport Services Group's subsidiary carrier, ABX Air, has partnered with turboprop freighter operator Air Cargo Carriers under a program designed to allow the latter's pilots to more easily enter ABX's training class.
United Airlines CEO Oscar Munoz talks about a variety of aviation topics, including financial stability, sustainability, cybersecurity and regulatory issues.
Shortly after FedEx announced it would not be renewing its express delivery contract with e-tail giant Amazon, Amazon signed an order for 15 additional narrowbody 737 freighters via lessor GECAS at the Paris Air Show today.
Salt Lake City's new airport set to open next year is a rarity as the first wholly new airport built in the US in over 20 years, writes Amanda Olson. Although the need for new construction is great, airports are usually redesigned instead of being rebuilt due to a wide range of challenges, including a lack of new land and the need to avoid congestion.
US Transportation Secretary announced a $65 million investment in Chicago's O'Hare Airport with part of it going to fund new runways. "The construction of runways will help Chicago maintain its status as one of the busiest in the world," Bailey Edwards of the Federal Aviation Administration said.
FedEx Corporation has announced that it has filed suit in U.S. District Court in the District of Columbia seeking to enjoin the U.S. Department of Commerce from enforcing prohibitions contained in the Export Administration Regulations ("EAR") against FedEx.
A new generation of plane-sized autonomous delivery vehicles is capable of carrying hundreds of pounds for hundreds of miles. They're called cargo drones. They are fast, more environmentally friendly, and could completely change the cargo industry.
« Previous
Next »