XPO Workers Take on Company at Annual Meetings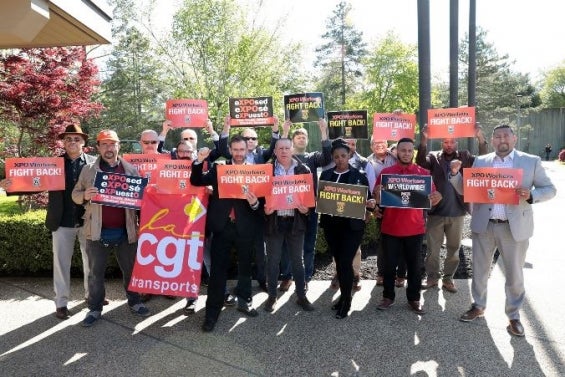 XPO workers and union representatives from France, U.K., and Belgium along with U.S. XPO workers from freight, warehouse and intermodal joined Teamster representatives at XPO Logistics annual shareholder meeting in Rye, New York followed by XPO's Annual General Meeting (AGM) in Lyon, France for the second year in a row to address the systemic issues that continue within the walls of the company. Many of the matters addressed to XPO's CEO Bradley Jacobs and his board are the same issues the global group has tirelessly been fighting to get answers to, including: the announced closure of the infamous Verizon warehouse in Memphis, Tenn., wage disparity, rampant sexual harassment, pay and pension discrepancy, discrimination and lack of respect to all XPO workers.
"The people are exhausted from the constant pressure from local management. They're being pushed beyond their limits up to a point where many have become so severely depressed and sick; they're unable to go to work," said Roger Deville, XPO driver and member of ACV-Transcom Union.
But yet again, workers were met with inaction, denial, and refusal to acknowledge or take accountability for XPO's irresponsible and reckless behavior around the world.
"Two-thirds of XPO employees in France are not receiving their overtime pay, and when we addressed these issues, Jacobs refused to give us answers. We demand that XPO give the workers the back pay they deserve, otherwise we will once again take XPO to court," said Thierry Mayer, XPO driver of CGT Union and member of the XPO European Works Council (EWC).
Workers attending the meeting were met with silence and deflection by members of the board, and with Jacobs' attempting to cut off their time to speak.
"They didn't address anything of what is going on in Memphis, and I feel extremely disrespected. XPO doesn't have any concern for the working people in Memphis, they're refusing to publicize their expert Tina Chen's sexual harassment report, and they wouldn't answer the questions of the outcome of the investigation in Memphis; they just talked around it," said Tasha Murrell, a former XPO warehouse worker from Memphis.
Despite the disrespect Jacobs and his board showed, XPO workers and union representatives pressed on continuing to address the slew of issues XPO workers are enduring every day.
"Workers shouldn't be giving XPO an interest-free loan. Pensions are deferred wages and must be credited on time," said Ross Mason, a steward from Unite the Union and Chair of the XPO European Works Council, regarding XPO improperly handling workers' pension money in the U.K.
The lack of respect shown to workers at the annual meetings was seen as a reflection of XPO's disregard for its workers and their basic human rights.
"I'm a misclassified driver for XPO in San Diego and I drive every day from Tijuana to San Diego to work. I work more than 12 hours and six or seven days a week to make ends meet," said Jose "Chema" Rodriguez, an XPO driver from San Diego, California. "To them, I am disposable and not a person. Even though I was hired and had to go through a tough hiring process and instructed by XPO with routes and loads, they still consider me as an independent contractor and not an employee."
« Previous
Next »