Teamsters Stand in Solidarity with AFGE, NFFE in Protesting Proposed OPM Shutdown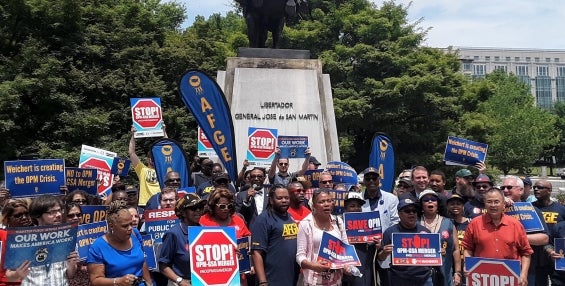 Yesterday a coalition of union members from the Teamsters, the American Federation of Government Employees (AFGE), the National Federation of Federal Employees (NFFE) and others held a rally in Washington, D.C. to protest a proposal by the White House to shut down the Office of Personnel Management (OPM) and merge it with the General Services Administration (GSA). The Teamsters represent workers at the Department of Defense and a number of other federal agencies who would be negatively affected by the merger. The White House has threatened to furlough and possibly lay off up to 150 OPM employees if Congress blocks the proposed plan.
"OPM workers provide a specialized skill set to serve the largest workforce in the world – the federal government. Their dedication allows Teamster federal employees to receive their health care, retirement, and fair job advancement," said Jason Rabinowitz, Teamsters Public Services Division Director. "We're tired of workers being targeted for political reasons. Workers who serve our country day in and day out should be treated fairly."
Merging OPM with the GSA would send the agency's regulatory authority to an unconfirmed presidential appointee. Members of Congress who attended the rally indicated that they would do everything in their power to prevent both the merger and the layoffs, including bringing the fight to judiciary. Rep. Gerry Connolly (D-Va.) is Chairman of the House Subcommittee on Government Operations.
"Here's what we assert: They don't have the statutory authority to do this, and we'll challenge them in court if necessary," Connolly said.
House Majority Leader Steny Hoyer (D-Md.) echoed Connolly's remarks, noting that nothing good could come from a merger of the two agencies.
"What we ought to be doing is not trying to merge OPM with an agency with which it has no relationship – in terms of objective, in terms of discipline, in terms of expertise that is needed, it makes no sense," Hoyer said. "The only conclusion that I can draw is that it is done, again, to undermine federal employees and their rights and their benefits under the civil service system. That's all I can think of."
« Previous
Next »