Teamsters Local 320 Builds Public Sector Power with Back-to-Back Organizing Victories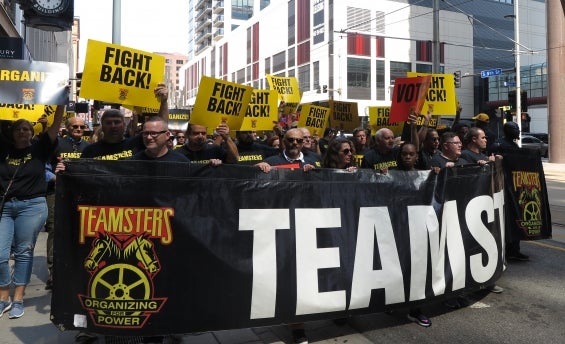 Teamsters Local 320 successfully organized two new bargaining units: Zumbrota Public Works and Tri-County Probation. The Zumbrota workers provide wastewater treatment and a number of other vital services to the City of Zumbrota, Minn. The Tri-County Probation Officers provide supervision and rehabilitation for criminal defendants for Norman, Polk, and Red Lake counties in Northwestern Minnesota.
"Congratulations to our newest members, who demonstrated an extraordinary level determination, solidarity and courage during this organizing campaign," said Brian Aldes, Local 320 Secretary-Treasurer. "We look forward to negotiating contracts for these public servants that reflect the vital role that they play in their communities."
The public works and wastewater workers for the City of Zumbrota are currently in the process of negotiating their first labor contract, and decided to join the Teamsters to preserve their working conditions.
"I knew I couldn't protect my co-workers on my own," said one of the Zumbrota workers. "I knew we needed a union to guarantee we had our rights!"
Zumbrota Public Works voted unanimously to join Local 320. All but one of the Tri-County Probation Officers who participated in the election voted in favor of Teamster representation, in spite of the fact that the employer was able to add more workers to the group in an attempt to dilute the vote.
"With the support of the Teamsters, we're showing that we're a united front, and that we'll continue to support each other even if higher ups feel we're replaceable," said one probation officer. "With the union, we're finally on equal ground and our voices will no longer go unheard."
Neither of these bargaining units experienced the benefit of union membership prior to organizing with the Teamsters.
"Almost a year after the Janus decision, workers understand there is power in a union," said Local 320 Organizer Claire Thiele. "Workers also know their ability to improve their retirement is better with a union than without."
« Previous
Next »