Teamsters Warn South African Investors of Workers' Rights Risks at XPO Logistics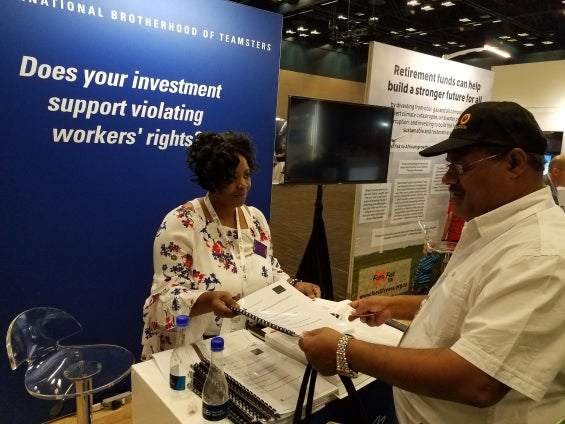 (DURBAN, South Africa) – Today, the Teamsters Union is warning South African institutional investors regarding the many risks facing investments in one of the world's largest transportation and warehousing companies, XPO Logistics [NYSE: XPO] at the Institute of Retirement Funds Africa conference in Durban, South Africa. The conference is the largest gathering of South African institutional investors, an industry with 6.2 trillion ZAR or $440 billion USD assets under management. The union is meeting with pension fund trustees and other investment professionals throughout the conference.
"We believe XPO's record in the USA of misclassifying workers that have led to civil and state led legal actions, violating their workers freedom of association rights and subjecting warehouse employees to work under deplorable conditions where workers allege sexual harassment, pregnancy discrimination and unsafe and unhealthy conditions leaves pension funds and other investors exposed to extraordinary risk," said International Brotherhood of Teamsters General President James P. Hoffa.
XPO's human capital management problems persist throughout several of its business segments, with workers reporting workers' rights violations in both Europe and North America.
This month, five drivers received roughly $900,000 from XPO in a final judgement from the U.S. Circuit Court of Appeals for misclassification related workplace violations; also this month a settlement for a class action lawsuit regarding denial of overtime and minimum wage claims due to employee misclassification was settled with 847 XPO drivers receiving $16.5 million.
As of 19 July 2019 there were 26 open individual Unfair Labor Practices with U.S. National Labor Relations Board (NLRB), the federal government agency that enforces labor laws, filed by or on behalf of XPO workers. On six occasions, the NLRB issued against XPO either individual case complaints or consolidated complaints involving multiple charges filed by the Teamsters.
U.S. Senator Richard Blumenthal has said the decision to close the Memphis XPO warehouse "sends a chilling message to workers…speaking out against unfair and unacceptable labor standards."
A hedge fund with deep roots in South Africa, Orbis Investment Management Ltd., is the largest institutional shareholder of XPO Logistics stock, owning 23 percent of the outstanding shares. Orbis is a signatory to the United Nations Principles for Responsible Investment and the firm has issued its own Statement on Responsible Investing. Orbis is founded by Allan Gray, South Africa's largest independent asset manager. A percentage of Orbis profits are earmarked for the Allan Gray Foundation, a charitable trust.
"I worked for XPO Logistics In Memphis, Tennessee for six years under what I believe to be inhumane conditions," said former XPO employee Tasha Murrell, "In my opinion, responsible investors should have very deep concerns about the sustainability of XPO and the reputational risk associated with investing in the company."
« Previous
Next »