XPO Truck Driver Speaks Out on Worker Misclassification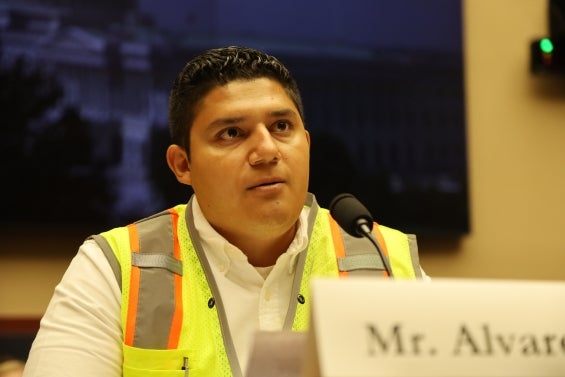 Josue Alvarez, a misclassified truck driver from XPO Logistics in Southern California, testified at a hearing for the "Protecting the Right to Organize Act" at the United States House of Representatives.
Sections of the "PRO Act" would make it easier for misclassified workers to be properly recognized as employees.
"As the workplace becomes increasingly splintered, we must protect worker rights," said Chairwoman Fredricka Wilson (D-FL).
Speaking to his experiences as a misclassified XPO employee, Josue shared the impact of misclassification on his life and why the law needs to change.
"We should be able to go to the table and bargain for the rights we've long been denied like vacation days, sick days and better pay," said Alvarez. "Taking a vacation or sick day shouldn't mean coming home to a negative paycheck."
Misclassified workers at XPO yards across Southern California have been fighting for years to be properly recognized as employees and to form their union.
"XPO does what it can to fool workers into buying in to this business.They try to sell us a dream. My paycheck comes with a statement attached. It tells me how much I made per load and then lists deductions for insurance and miscellaneous administrative fees. I have no idea what some of the administrative costs really are or if they are legitimate. And because I am misclassified, XPO is able to push operations costs like taxes, diesel, parking, tags and more onto me," said Alvarez.
Josue's testimony comes on the heels of a legal victory from the 9th Circuit Court of Appeals where XPO workers, at the same yard in CA where Josue works, were found to be owed close to one million dollars in stolen wages.
In his testimony, Josue shared how the PRO Act would change things not just for him but for all misclassified drivers at XPO.
"Being properly classified as an employee would mean that we could finally form our union and bargain for the employee benefits and protections we've long been denied," Alvarez said.
Lawmakers offered their support to workers speaking out on these issues.
"We are on their side," said Chairwoman Wilson. "If we need to hold a third hearing on why we need the PRO Act we will."
« Previous
Next »