Working Women Share Hopes for 2020 During Presidential Forum With Candidates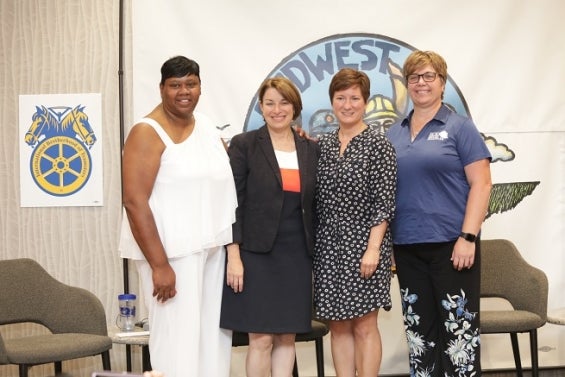 (IOWA CITY, Iowa) – Sens. Kirsten Gillibrand (D-N.Y.) and Amy Klobuchar (D-Minn.) joined working women from across the Midwest to discuss the upcoming election during a presidential forum Thursday evening sponsored by the International Brotherhood of Teamsters.
The event – "Women Leaders Rising: 2020 Issues Forum" – was held in downtown Iowa City as part of The Midwest School for Women Workers' annual training program where working women and labor leaders from several different unions develop leadership skills, discuss challenges facing them, and learn from each other's experiences. Dozens of working women who are attending the school joined the forum.
"We are proud of the thousands of hard-working union women we represent. They are a core part of our economy and are ready to vote this election cycle for candidates who promise to lead on the issues most important to working people–such as retirement security, union rights, and fair trade," said International Brotherhood of Teamsters General President James P. Hoffa. "We are grateful to these women, the candidates, and The Midwest School for Women Workers for providing the opportunity to hold an honest discussion about the future of our nation and the policies that closely impact everyday Americans."
At the forum both Senators commented on the need to focus on issues such as retirement security to protect working people.
"I believe that promises made, should be promises kept," said Sen. Klobuchar. "… There is something called the Butch Lewis Act that I strongly support and we are working to get that done. And I will continue to push for that as President."
"The pension system our unions created is one of the most important social safety nets for workers…and to have so many pensions that are at risk right now is gravely troubling…" said Sen. Gillibrand. "…As president I would fully fund our pensions…I would guarantee that all pensions would be fully funded so that those benefits can be paid out."
« Previous
Next »