Local 117 Declares Victory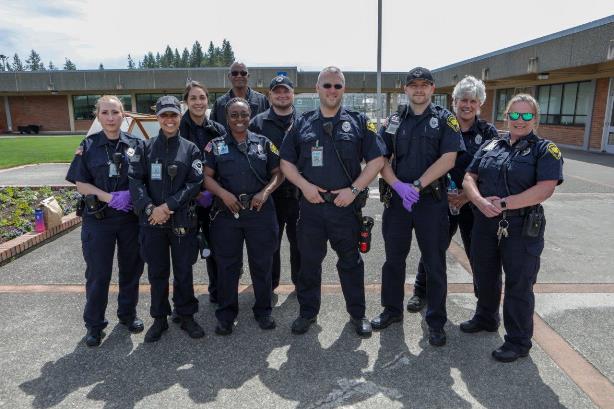 It's a victory a decade in the making. For 10 years, Teamsters across Washington state made phone calls, wrote emails and met face-to-face with legislators. They spoke out in the press and marched around the Capitol grounds in Olympia.
Now, after years of perseverance, they have achieved a historic win. On April 30, Gov. Jay Inslee signed a bill that immeasurably expands the rights of 6,000 Teamsters at the Department of Corrections (DOC).
The new law grants the union access to interest arbitration, a right essential to public safety professionals. Making the victory even sweeter, Gov. Inslee signed a similar bill on the same day that benefits Teamster officers at the University of Washington Police Department (UWPD).
"Our corrections and law enforcement members put their lives on the line to protect the public," said John Scearcy, Secretary-Treasurer of Local 117, who made passage of the bills a top priority. "Interest arbitration ensures our members are treated with respect."
These new laws allow the union to push mandatory subjects of bargaining to a neutral arbitrator if the negotiations reach an impasse. Without interest arbitration, the union had little recourse when negotiating over issues like wages and working conditions. Not surprisingly, the state exploited its advantage by engaging in frustrating cycles of take-it-or-leave-it bargaining.
The ramifications are huge.
Over the last three contract cycles, DOC members have been able to access interest arbitration, first through a memorandum of understanding signed by the governor, then through a negotiated provision in their contract. With interest arbitration, the union and its members have prevented concessions, strengthened language and increased wages for DOC Teamsters by a minimum of 28.3 percent over six years.
"We wanted to ensure these rights could not be stripped away during negotiations, so we made statutory interest arbitration a long-term priority," Scearcy said.
In 2019, Local 117 had their largest, most successful lobby day ever. Over 200 Teamsters and their families converged on the State Capitol to talk with legislators about the need to get the law passed. Now, after years of determination and hard work, a goal once thought unattainable has become a reality.
"I'm proud to be a Teamster," said James Deuel, a corrections officer at the Washington Corrections Center in Shelton. "Interest arbitration levels the playing field with management. It gives us the opportunity to fight for what we want and what we need."
Teamsters Honor Fallen Deputy
Local 760 Member Fatally Shot on the Job
Kittitas County Sheriff's Deputy Ryan Thompson, a member of Local 760 in Yakima, Wash., was fatally shot in March by a suspect who evaded a traffic stop. A second officer, Benito Chavez, was injured in the shooting. The suspect was shot and killed.
"This is just devastating," said Leonard Crouch, Secretary-Treasurer of Local 760. "These are very close-knit communities and it is affecting everyone."
Thompson, 42, was raised in Walla Walla and attended Central Washington University. He was married with three children and is the first law enforcement officer to be shot and killed in Kittitas County since 1927.
« Previous
Next »