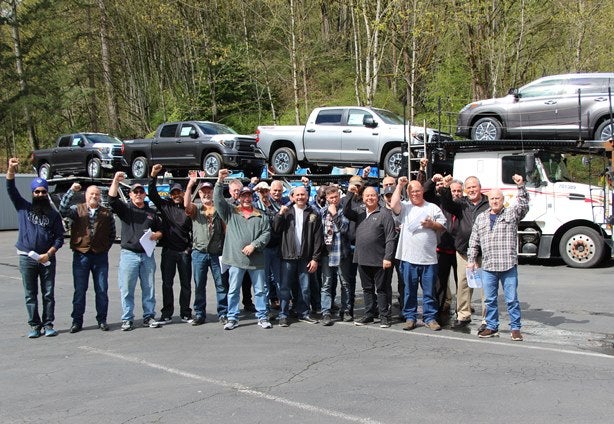 Carhaul drivers and mechanics at North American Auto Transport recently voted to ratify their first Teamster contract, becoming the first new Teamster carhaul members in the Western United States in 45 years.
The 70 workers voted 91 percent to ratify the contract.
The contract victory comes more than four years after workers at a prior company, Selland Auto Transport, voted to become Teamsters. After organizing, it quickly became apparent that Selland was willing to do anything to derail contract talks. The company illegally fired and laid off workers and was ordered to pay more than $36,000 in back pay. The Teamsters also conducted a one-day strike at Selland.
Selland finally admitted defeat and sold the company's remaining operations to North American Auto Transport.
Once the sale was complete, North American leadership and the Teamsters moved forward with contract negotiations.
Huge Savings
The new contract contains many improvements, including the workers moving from an expensive and inferior company plan into high-quality Teamster medical with significantly lower out-of-pocket costs. The workers will save more than $500 per month.
The new contract also includes improved "Hours of Service" rules; a strong grievance procedure; subcontracting protections; many benefits for owner-operators; and an end to favoritism that was rampant at Selland.
"This contract is the best possible outcome to a grueling and pointless battle," said Teamsters Carhaul Division Director and International Trustee Kevin Moore. "We are all thankful the fight is over now and these workers can move on to a brighter future under a strong Teamster contract."
"This contract will be the template to restore the once mighty but currently nonexistent Carhaul industry in the West," said Rick Hicks, Secretary-Treasurer of Local 174 in Seattle.
« Previous
Next »