Uncategorized
TNBC 44th Annual T-Shirt Day and Conclusion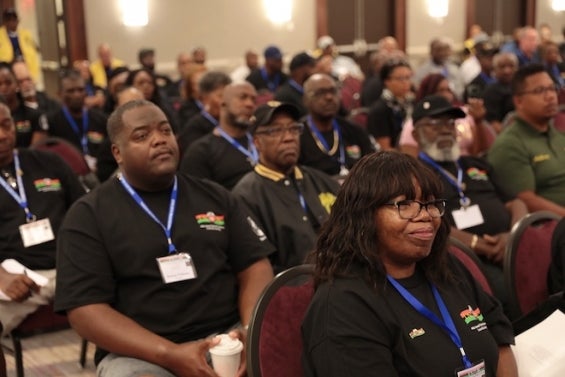 Teamsters National Black Caucus members, delegates and guests wore their customized T-shirts on the third day of the TNBC Conference to represent their presence in Louisville, Ky.
The day was filled with more education and a visit from Louisville Mayor Gregory E. Fischer. Fischer shared how proud he was of the TNBC and the new leadership. Being a businessman and an entrepreneur, Fischer understands the labor movement and the civil rights movement and its importance of advancing the working class.
"What's wrong with living in a country where every human's potential is on display every day, flourishing?" Fischer asked.
TNBC Chairman James 'Curb' Curbeam continued to encourage and demand the members, guest and delegates to get involved, stay an active member in their union and share all the information given this week with everyone when they return home.
There were panels held on protest for migrant rights, understanding automation and the future of work, and the future of the labor movement. These panels were important because these are issues that currently or eventually will affect the working class, including Teamster members.
Department updates were given by Teamster staff from the Legal, Economic and Contracts, Safety and Health, Organizing, and Political and Legislative departments.
Kentucky Sen. Gerald Anthony Neal (D-District 33) addressed the crowd and welcomed the TNBC to his district. Neal expressed how important and special of an opportunity it was to speak to his brothers and sisters about very important issues.
"It's a time that requires us to do some very focused activity," Neal said. He spoke of how diverse his district is, but everyone wanting the same thing. "They want security, they want respect, they want dignity. They want value in their lives and they want to express themselves in a way that they feel gives them recognition in their own communities and families."
The last day of the conference consisted of the annual Eula Day prayer breakfast, regional meetings and the new chairman's vision for the coming years of the TNBC.
« Previous
Next »