Uncategorized
Senate Must Take Next Step on Pension Reform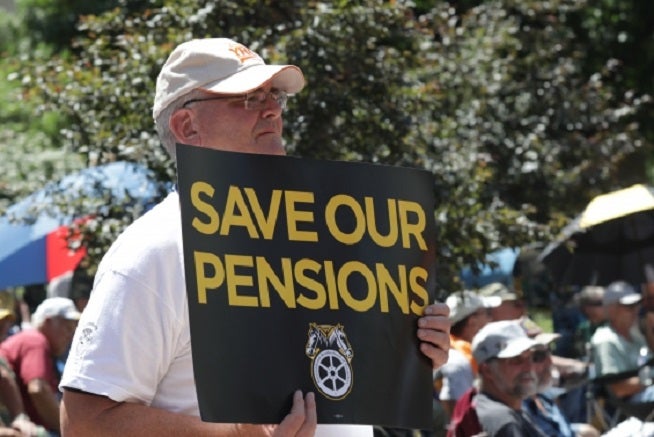 Congress returned to the nation's capital this week to attend to country's most pressing needs. And there is no topic that needs to be addressed more than the U.S. pension crisis.
Some 1.5 million Americans face an uncertain retirement unless fixes are put in place to firm up endangered multiemployer pension plans. Luckily, there is a proposal that has already cleared the House that would go a long way towards firming up the nest eggs of retirees and workers. But it can no longer be delayed.
The future of this legislation – known as S. 2254, the Butch Lewis Act – is currently before the Senate. But unless leaders of the Republican-led chamber are spurred to move the measure forward, it will just languish there.
Teamsters General President Jim Hoffa wrote a letter to senators last month urging them to quickly act to pass the bill. He said hardworking Americans who have played by the rules of their lives deserve to have their savings protected.
"The financial distress many of these plans face were and are beyond the control of these retirees and workers," he told the lawmakers. "Multiemployer pension plans have been buffeted by economic turbulence over the decades – from deregulation to financial meltdowns to recessions."
The Teamsters are again reaching out to members of the Senate this week to stress the importance of this measure. But that won't do it alone – elected officials also need to hear from their constituents.
It is essential for the membership to reach out using the Teamsters' hotline number (888) 979-9806 to speak with their senators. Urge them to support S. 2254 and if they already back it, tell them to sign on as a cosponsor. Currently there are 28 co-sponsors. If this legislative push is going to be successful, backing of the bill needs to be broad and bipartisan.
As it stands, there are more than 300 multiemployer plans across the country — including the Teamsters' Central States Pension Fund — that are in danger of failing. The Butch Lewis Act would boost financially-troubled multiemployer pensions so they don't fail. It would create an agency under the Treasury Department that would sell bonds in the open market to large investors such as financial firms.
The agency, the Pension Rehabilitation Administration (PRA), would then lend money from the sale of the bonds to the financially-troubled pension plans. Plans that are deemed "critical and declining," as well as recently insolvent but non-terminated plans, and those that have suspended benefits would be eligible to apply for the program.
Pension plans borrowing from PRA would be required to set aside the loan proceeds in separate, safe investments such as annuities or bonds that match the pension payments for retirees. For those plans needing additional help to meet retiree obligations, the Pension Benefit Guaranty Corporation would be available to make up the difference.
The Senate needs to show its support for working Americans who make up the backbone of this nation. It starts by supporting their right to a secure retirement.
« Previous
Next »