Uncategorized
Teamsters on the Trail: Sept. 16-22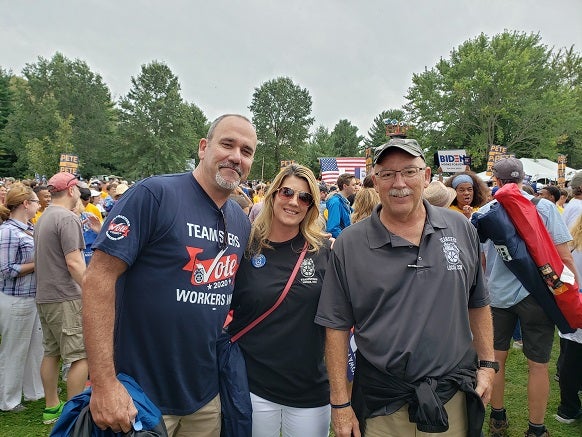 Week six in the Teamster Nation Blog digest of Teamster-attended candidate events found members hearing from presidential contenders at two big events held in Philadelphia and Des Moines.
Monday, Sept. 16
Philadelphia, Pa.: Teamster members from the Philadelphia-area Local Unions 326 and 107 attended the Philadelphia AFL-CIO forum and heard from a number of the Presidential candidates on worker issues.
Highlights included former Vice President Joe Biden talking about how jobs in the future would increasingly be union because they would require special skills that only apprentice programs would provide. Sen. Amy Klobuchar of Minnesota talked about her family's union history and spoke about the importance of reforming health care as well as address the opioid crisis. Sen. Bernie Sanders of Vermont reiterated his support for a living wage as well as Medicare for All single-payer health plan. Billionaire investor-turned-activist Tom Steyer said he made a change in his career path because he decided the corporate rat race was hurting working people and needed to be fixed. He repeatedly said he is "going to the dance first with unions, and last with unions" since they help create good-paying jobs. And businessman Andrew Yang talked about transitioning old economy union jobs to the new economy, but still keeping them unionized.
Saturday, Sept. 21
Des Moines, Iowa: The Teamsters were out in force for the Iowa Steak Fry, meeting candidates and getting photos and videos of them as part of the estimated 11,000 people in attendance. Teamster members from Locals 120, 238 and 710 raised important Teamster issues with nearly every candidate in attendance, including Sen. Cory Booker; Mayor Pete Buttigieg, Rep. Tulsi Gabbard; Sen. Kamala Harris; Rep. Tim Ryan; Tom Steyer, and Andrew Yang.
Jim Romar, Local 238's political coordinator, said the dozens of Teamsters on hand really got a chance to get up close and personal with the candidates at the event, which he described as having a carnival-like atmosphere. "We delivered a large turnout of Teamsters for this event because it is such a large event, but got good one-on-one contact with these candidates and a real chance to dig in on the issues with the candidates," he said. Romar noted that the long history of the Steak Fry, started and originally hosted by former Sen. Tom Harkin of Iowa, made it a big draw.
« Previous
Next »