Teamster Charity to Host Ceremony Honoring Veterans at Mass. State House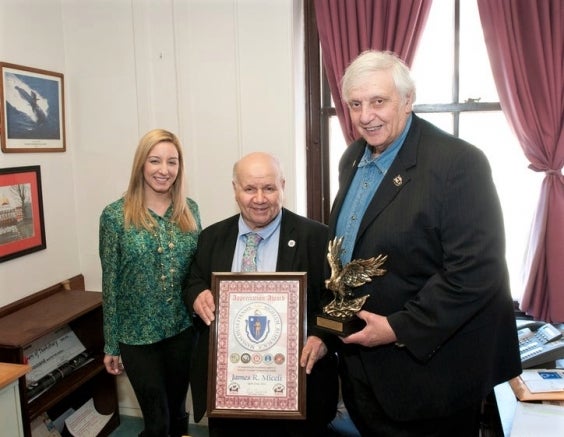 (BOSTON) – Jobs in the freight industry are one of the keystone opportunities offered by the Teamsters Military Assistance Program (TMAP). The truck driving program, coordinated by ABF Freight, has been successful in training military veterans for good paying jobs for the past several years and one new opportunity to find out more about the program is coming up in Boston on November 1.
IPods for Wounded Veterans (IWV – a partner with TMAP) is one of the main sponsors of the "State House Salute to Veterans" on Friday, November 1 at the Massachusetts State House. IWV is overseen by retired Teamster and Vietnam Veteran Paul Cardello. The organization provides free electronics and other goods to veterans in hospitals who are recovering from injuries they received in combat.
"Every veteran who attends is going to get something from iPods for Wounded Veterans," said Cardello. "We're reaching out to our sponsors. The more we get, the more we'll give away."
Organized in honor of James Miceli, former State Representative of the 19th Middlesex District, the event is geared towards thanking men and women in uniform from all across the Bay State for their service to our country. The ceremony will include speeches from dignitaries and recognition for some of IWV's corporate sponsors and volunteer award winners.
"This will be iPods for Wounded Veterans' signature event," said Cardello. "It doesn't get any bigger than this for us."
The event will take place from 1:30-3:30 PM in Memorial Hall. It is being co-sponsored by State Representative Dave Robertson (D-Tewksbury). Robertson and IWV have received donations for service members from the Wilmington Senior Center, Wilmington High School's Local Heroes Club, Bose and Cornell University. For more information or to donate, please contact David Hencke, VA Boston Outreach Coordinator at (857) 364-5934 or Paul Cardello at (603) 770-5336. You can also go to http://ipodsforwoundedveterans.org.
« Previous
Next »