Uncategorized
Teamsters on the Trail: Sept. 23-29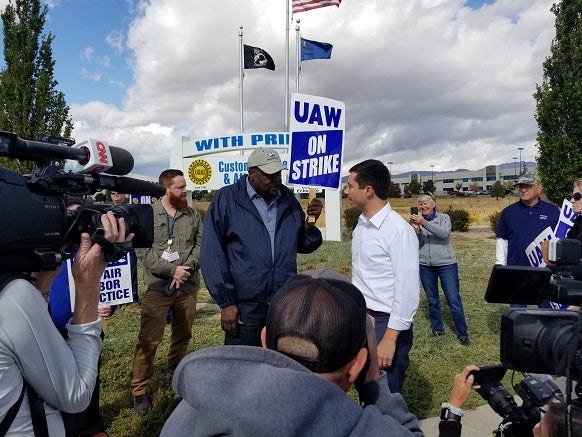 Week seven of the Teamsters 2020 Primary Engagement program featured members and local union leaders raising Teamster issues at candidate events across the country from east to west. Virginia became the 14th state where Teamsters have gotten out to make sure our issues are being addressed in this presidential election.
Tuesday, Sept. 24
Davenport, Iowa: Local 710 steward, Brenda Davis, spent her birthday raising questions about pension and workers' rights at a Mayor Pete Buttigieg Town Hall. Sister Davis caught his answers on collective bargaining on video. Check it out here.
West Liberty, Iowa: Sen. Bernie Sanders had a good back and forth conversation with members from Local 238 about the importance of organizing at a "Unidos Con Bernie" event.
Friday, Sept. 27
Las Vegas, Nev.: Local 986 got out to a community event hosted by Joe Biden, making the Teamsters' presence known.
Saturday, Sept. 28
Reno, Nev..: The coordinated effort by Teamsters across the country has paid off as Investor and activist Tom Steyer delivered a matter of fact answer at the "First in the West" Dinner to a question about pensions. He said, "I have two words for you, 'Butch Lewis.' We are going to get it passed." See photo here.
Reno, Nev.: Buttigieg spoke with Teamsters while at a United Auto Workers strike line and said workers need to remain united. Later in the day, he spoke at the "First in the West" Dinner about his plans to make healthcare affordable and available to everyone. See photo here.
Dale City, Va.: Teamsters in Northern Virginia pulled double duty by volunteering for endorsed incumbent state Delegate Hala Ayala and talking to Cory Booker, who kicked off a weekend canvass. See photo here.
Sunday, Sept. 29
Columbia, S.C.: As Sen. Booker made his way south, Local 509 members welcomed him to Columbia with questions on Teamster issues. See photo here.
« Previous
Next »