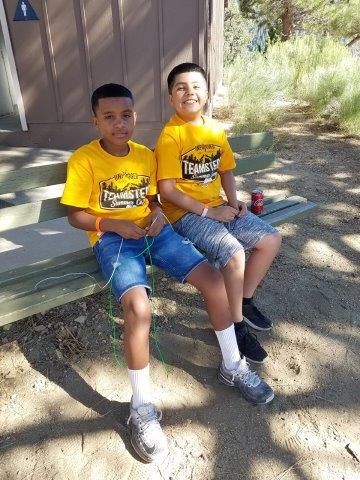 Youth Helpers is an organization that believes that children are the foundation of our future and all children should be allowed the opportunities to grow and discover who they were created to be.
Founded in 2011 by a 30-year Teamster and his wife, Youth Helpers runs a summer camp called Un-Plugged for the children of Teamsters at Laurel Pines Camp in Southern California.
Charles "Lucky" Lepins is a member of Local 848 and a Sysco worker in Los Angeles. He's the shop steward at his workplace and the president of Youth Helpers, a 501(c)(3) nonprofit. His wife Becky Lepins attended Laurel Pines camp as a kid and created the UnPlugged program.
Together they thought what a great experience it would be for Teamster kids and offered a program camp to children of members of Local 848.
"Youth Helpers programs summer camp specifically designed for Teamsters to educate children on Teamsters and labor while empowering the next generation of our communities," Becky said of the five-day, four-night camp program. "Youth Helpers works closely with Teamster locals and leaders to continue to grow and expand the program to meet the needs of Teamster children."
Local 848
Eric Tate, Secretary-Treasurer of Local 848, and the local's Executive Board agreed to participate and sent the first Teamster kids to camp in 2011.
"The main people doing the youth camp, one of them is a member at my local. He came to me with the idea and I'm glad we got involved," Tate said. "We're always trying to find ways to get younger people involved in the union and to teach people about the Teamsters and what we're about. What better way than to have our own Teamster children spend a week at a camp like this?"
Tate recently visited the camp himself and had a lot of good things to say about it.
"It's pretty cool up there," Tate said of the camp, located in Angelus Oaks, Calif., in San Bernardino County. "They've got a lot of acreage and they've developed a small portion of it. There are cabins with bunkbeds, swimming pools, archery, basketball…it looks like a great time."
Locals involved in the camp sponsor children of members so the whole experience is paid for, including food and transportation. Youth Helpers strives to use union and Teamster companies for all their camp needs, such as using Teamster bus drivers, Sysco foods, UPS for deliveries and union electricians for electrical needs.
Positive Feedback
Tate has spoken with parents of kids who attended the Teamster camp and many of the kids themselves.
"Every year we have a lot of kids begging to go back. Some of the older ones have even come back as camp counselors. This program is going great," he said.
"We have received overwhelmingly positive feedback from parents and students alike," Becky said.
"Parents love that their children unplug and get back to the basics of being a kid while learning to be independent, having fun and growing as leaders and individuals. Campers love being outdoors and in the mountains, they enjoy the games, activities and lessons."
Becky said many of the campers have told her that camp helped them overcome shyness, try new things, make new friends and learn about themselves.
Next Generation
After several years of participation and an overwhelming response from campers and parents, the Lepins took the program to Joint Council 42 in Southern California. In 2016, Joint Council 42 President Randy Cammack adopted the program and many additional locals joined in. Currently nearly 300 Teamster kids attend the Teamster Youth UnPlugged Camp.
At camp, Teamster children enjoy "unplugging" from their electronics and experiencing the beauty of nature. Teamster children go on a week-long adventure filled with games, great homemade food, fellowship and personal growth. They are empowered by building self-confidence, developing relationships with others, encouraging leadership and independence, having fun and experiencing a truly life-changing week.
Teamsters UnPlugged is designed for kids to "get back to the basics" and let kids be kids; play games, have fun, laugh, look at stars and just be a kid.
Campers are taught the fundamentals of what the Teamster organization is and how Teamsters work within communities. Recently, Karin Jones, coordinator of the Teamsters History Project, educated campers on the union's history.
"It is our belief that as the youth of Teamster members grow and develop friendships with each other, it will not only strengthen the communities they live in but ultimately strengthen the bond of the Teamster organization," Lucky said. "This is the very first step in organizing and educating the next generation on who and what Teamsters are and what labor means."
For more information, visit youthhelpers.com.
« Previous
Next »