Huge Support for Contract at Wegmans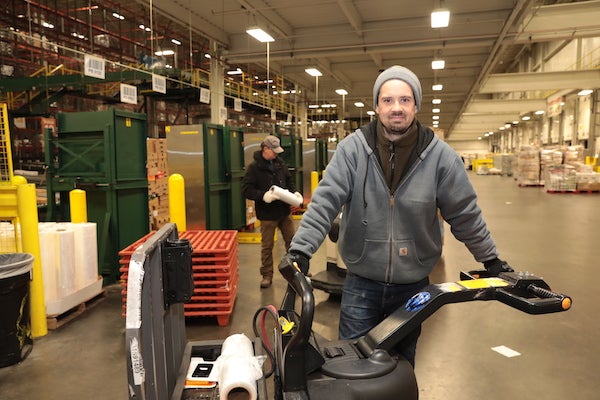 Local 118 members employed at Wegmans Food Market distribution centers in Rochester, N.Y. voted to ratify a new agreement by an overwhelming 80 percent margin.
The bargaining unit includes warehouse workers, drivers and skilled trades workers. The new agreement provides for a 15.08 percent wage increase over the term, including a first-year wage increase of 3.77 percent.
In addition, improvements were made to wage progression schedules, differential pay, stricter part-time language and other improvements that are mutually beneficial.
"While this new agreement sets a new standard with respect to wages and benefits within the grocery warehouse industry, it also addresses the quality of life issues our members deserve," said Paul Markwitz, President of Local 118 in Rochester.
More Opportunities
Markwitz said communication with the bargaining unit was key.
"It was imperative that our committee took the time and effort to communicate the many positive changes to this agreement," he said. "The overwhelming approval of this agreement underscores the success of that effort."
Tim Johnson, a 32-year loader, Wegmans employee and Local 118 member, said having a union contract really benefits him and his co-workers in the grocery industry.
"There's a big difference in perks and privileges from nonunion companies," Johnson said. "Our union contract makes it so we have better pay and benefits than others. It's good because we see how differently companies have to treat you because we have representation.
"You can negotiate to make more improvements for you and your co-workers; there are more opportunities to improve our working conditions beyond just wages and hours," he said.
'Skilled Labor Isn't Cheap'
Longtime Wegmans employees are very satisfied with their latest contract agreement and say it is one of the best contracts they've gotten in a long time.
David Heschke has been a skilled trade mechanic at Wegmans and a Local 118 member for the last 10 years and a shop steward for the last three years. He was pleased with the wage increases that came with this most recent contract ratification.
"This is by far the best contract we've negotiated," Heschke said.
"We didn't give up or lose a single thing we were asking for; wage increases, cleaner contract language, stronger comp language for our contract workers," Heschke said. "Skilled labor isn't cheap, the wages and benefits we negotiate for union members brings in the skilled labor we need to keep the company going."
"At the end of the day there is a lot of give and take from both sides to come to a fair contract for us all, especially compared with the past. This is one of our best contracts yet," Johnson said.
« Previous
Next »