Life After Hurricane Maria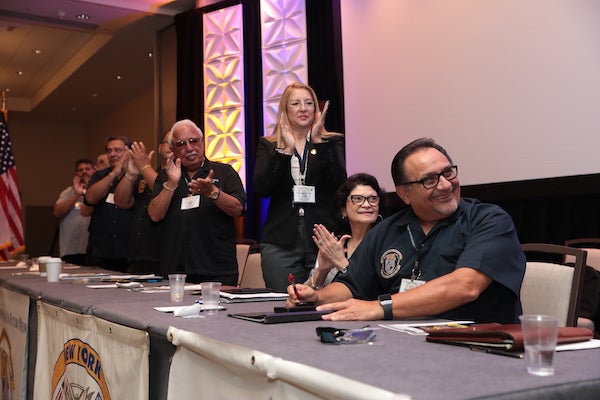 At the 2019 Teamsters National Hispanic Caucus (TNHC) in Puerto Rico, elected officials and union leadership praised the members who assisted after Hurricane Maria hit the island two years ago.
Hurricane Maria, which struck in September 2017, was one of the most devastating natural disasters to ever strike Puerto Rico. With an unofficial death toll of over 3,000 people, loss of key infrastructure, unreliable electric grids and inadequate government response, the island was left reeling.
As they always do when disaster strikes, the Teamsters sprang into action to help those in need.
"You opened the roads, tended to our wounds, gave us food and water. You stood by us when others wouldn't. For that, as the mayor and a Puerto Rican, I will forever be grateful to you," San Juan Mayor Carmen Yulin Cruz said at the TNHC, which was attended by members of the Hispanic Caucus from throughout North America.
More than 200 union volunteers, including Teamsters from across the country, chartered a plane filled with emergency supplies and went to Puerto Rico immediately after the hurricane.
"We got the call that they needed volunteers and that was it. Within two days we were packed up on our way," said Lidia Torres, business agent with Local 210 in New York.
"As a Puerto Rican, it was devastating. There is not one word that can describe the pain when you see just sheer devastation of such a beautiful tropical island. It was a disaster," Torres said.
'Puerto Rico Se Levanta'
Several Teamsters, returning to Puerto Rico for the first time since taking part in union-led relief efforts after Hurricane Maria, were emotional as they recalled harrowing experiences while volunteering after the storm.
"I was so ecstatic when they announced the Teamsters National Hispanic Caucus would be in San Juan. It felt wonderful to see that the island is doing a lot better," Torres said. "San Juan is really coming back but outside of the city, people still have tarps and no running water. It's sobering to see."
"People were crying when we were here before. They said, 'Nos vamos a levantar, Puerto Rico se levanta' ('We're going to rise, Puerto Rico will rise.') and in two years they really did," said Jessica Yanz of Local 210. "The way they've taken care of their island and the way they've come back has been incredible to see."
The spirit of growth and hope in the light of recovery hung in the air throughout the conference.
Speakers and Sessions
Attendees heard from TNHC President and International Vice President George Miranda. Also speaking was International Vice President Ron Herrera, who serves as Local 396 Secretary-Treasurer.
Herrera spoke about the need for more Latino Teamster leaders and how the union is fighting for immigrant rights.
"Power is not given. We have to fight for it. We need more progressive young leaders," Herrera said.
Attendees also heard from Local 238 Secretary-Treasurer Jesse Case about how the local is fighting back against anti-worker attacks in Iowa by building community power among nonunion workers. He also spoke about how his local is fighting for civil rights and economic justice through TeamCAN, the community action arm of the local.
"They cannot legislate our movement out of existence. We have to evolve as an organization, not just be a grievance factory. We don't need anyone's permission to fight for working families," Case said.
Other sessions included discussions on building worker power at Amazon, Local 237's oral history project on Puerto Rican workers, and how increasing automation is affecting the workplace and truck driving. The event closed with the reelection of the Executive Board.
"Teamsters are who we are because of our diversity. It's what makes us strong as a union," Miranda said.
« Previous
Next »