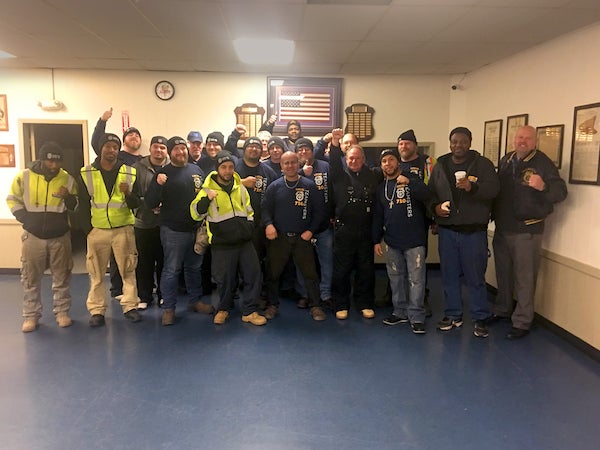 From organizing workers and negotiating solid contracts, to balancing its budget and growing its treasury, Local 710 has continued to make a major comeback and serve its membership since coming out of a trusteeship in 2017.
Under the leadership of Secretary-Treasurer Mike Cales, Local 710 has worked hard to be fiscally responsible and responsive to the needs of its more than 13,000 members. And plans are under way for even more ways to serve the membership.
"I'm proud of how Local 710 has worked hard to steadily get on the right path toward continued economic growth," Cales said. "This has allowed us to do so much more for our 13,000 members and their families, and I'm excited to see how we can continue to move forward."
Change in Direction
The International Union placed Local 710 in trusteeship in July 2014 for fiscal improprieties involving a prior administration. It was released from trusteeship in June 2017, paving the way for elections that fall. Following the voting, Cales and his officers took office on Jan. 1, 2018.
At the start of the Cales' administration in January 2018, Local 710 had $338,781 in the bank. As of June 30, 2019, the local had nearly $1.1 million in the bank—the first time in history that Local 710 had $1 million in the bank.
"Mike Cales and his team have done an outstanding job turning this local union around," said Stu Hochfelder, a driver at ABF who has been a Local 710 Teamster for more than 20 years. "Membership is increasing, the finances are in better shape and they listen to the members. They're doing the job and they're doing it well."
Growth
For Local 710, 2018 was a year of incredible growth. Once the local was officially in the hands of 710 members, it got on a great path of continued growth, which has continued into 2019:
Cash on hand has more than doubled;
Liabilities were cut by nearly $200,000; and
Net assets increased nearly $1 million.
In addition to financial growth, Local 710 was busy negotiating a record number of contracts in 2018 alone. These contracts covered more than 9,000 of the local's more than 13,000 members. The majority of members who ratified new contracts work at YRC/Holland, ABF, UPS and UPS Freight. Fifty-nine contracts have been ratified, the majority of which were unanimous or overwhelmingly approved.
Organizing
Recently, three new units were organized, adding nearly 300 members.
On July 25, 2019, workers at the intermodal rail company ITS ConGlobal in Chicago voted to join Local 710, the second organizing victory at the company since Cales took office. There are 74 workers in the bargaining unit, and there were 57 workers in the unit at ITS in Calumet, Ill. who voted to join Local 710 in February 2018.
Also, in late 2017 after Cales was elected, 133 workers at ITS ConGlobal in Harvey, Ill. voted to join Local 710.
In May 2018, 180 drivers at Southern Glazer's Wine and Spirits overwhelmingly ratified a new four-year contract that increased wages and improved work schedules, among other gains.
Earlier this year, UPS members overwhelmingly ratified the Local 710 UPS Agreement, which is separate from the national UPS contract. Voter participation was up over past UPS contract votes. The contract is in effect from August 1, 2018 through July 31, 2023.
New Programs
The local is not letting up. The Executive Board has been working on new programs to benefit the members and their families. Some of the initiatives include:
Continued efforts to boost organizing. The local has hired two staff members who will serve as business agents/organizers, and Local 710 will continue to make organizing a priority;
Establishing a strike and defense fund;
Establishing a scholarship fund; and
Continued work to provide top-notch representation.
Cales has also made working with Chicago's Joint Council 25 a priority.
"We've built a strong relationship with Joint Council 25 and President Terry Hancock," Cales said. "The entire Joint Council has been extremely supportive, and I'm looking forward to working together in the future for the benefit of our members."
« Previous
Next »