Uncategorized
Teamsters on the Trail: Oct. 28-Nov. 3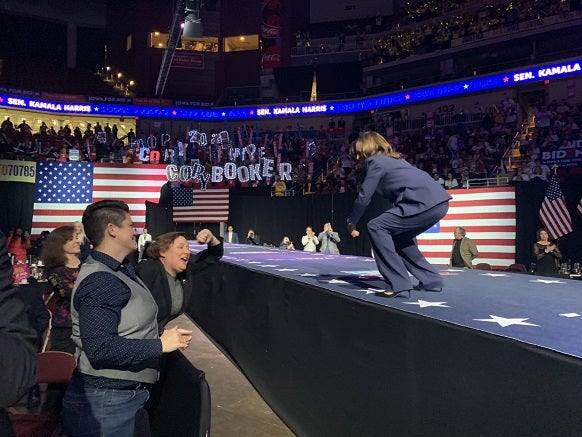 Iowa was the center of much of the presidential campaign world last week as contenders were drawn to the Hawkeye State to attend the Nov. 1 Iowa Democratic Party's Liberty and Justice Dinner (more on that below).
For those who want to know more about the union's efforts to influence the presidential election, the latest episode of the Teamster Nation Podcast aired last week and features the Teamsters 2020 Primary Engagement strategy with member interview and clips from many of the candidates we've caught on camera. Listen to it here.
Monday, Oct. 28
Philadelphia, Pa.: Teamsters Local 502 member Don Anticoli attended at a Tom Steyer event held at the University of Pennsylvania campus. When asked about pension reform and collective bargain rights, Steyer called himself a passionate supporter of the Butch Lewis Act, and noted there has been a 40-year war on labor that must stop. He also said that good union jobs help people maintain good health insurance. Photo here.
Friday, Nov. 1
Des Moines, Iowa: Some 30 Teamsters, including members and officials of Locals 120, 238, 554 and 710 were among the thousands on hand at the Iowa Democratic Party's Liberty and Justice Dinner, where they listened for the 13 candidates to talk about their plans for workers if they are elected next year. See video here.
Saturday, Nov. 2
Waterloo, Iowa: Teamsters Local 238 Business Agent Dan MacDonald and his wife were on hand to hear from Sen. Cory Booker of New Jersey. Although they didn't get a chance to ask a question during the event, they did get a chance to meet him and his girlfriend, actress Rosario Dawson. Based on the pin she was sporting, she appears to be a fan of the Teamsters! Photos here and here.
Dubuque, Iowa: Members of Local 120 started the day by going through a political training put on by the IBT at the Local's steward seminar and ended the day by putting their skills to use at an event for Sen. Elizabeth Warren of Massachusetts. Photo from the training here.
Sunday, Nov. 3
Davenport, Iowa: A sign held by Local 710's Brenda Davis caught the eye of Sen. Warren during a rally here, and the lawmaker told Davis she had the best sign at the event. Later, when Warren mentioned unions she told Davis to hold her sign higher so the whole auditorium could see, leading the crowd to erupt in cheers. Photo here.
Waterloo, Iowa: Sen. Bernie Sanders of Vermont spoke at an event attended by Teamsters Local 238 member's. While they while they were a visible presence there, they didn't get to ask any questions.
« Previous
Next »