Uncategorized
Wisconsin Teamsters Help Pass Law to Fight Human Trafficking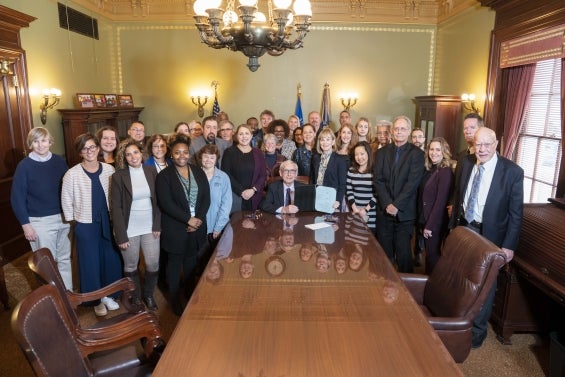 Teamsters Locals 200 and 344 have helped pass a new law to combat human trafficking by educating truck and bus drivers on how to identify and report cases of forced labor or sexual slavery.
The Teamsters partnered with the Human Trafficking Task Force of Greater Milwaukee, state Sen. LaTonya Johnson (D-Milwaukee) and a number of labor groups to bring attention to the human trafficking epidemic.
Milwaukee has been described as a "mecca for sex trafficking" and the passage of AB22 provides a path of awareness and education for individuals entering the trucking industry through trade programs. This bipartisan bill was signed into law by Gov. Tony Evers (D) on Wednesday, Nov. 20, 2019. Local 200 Business Agents Jared Wolski and Jim Seelow attended the bill signing.
Assembly Bill 22 will require the Technical College System Board to include instruction on the recognition and prevention of human trafficking in the curriculum for commercial motor vehicle driver certification. The requirement extends to all Wisconsin technical colleges that offer commercial motor vehicle driver education courses, as well as licensed private driver schools.
The law is a positive step forward to address this epidemic. Teamsters Local 200 and 344 supported this bill earlier this year for passage with written statements, including a petition of support by the membership.
« Previous
Next »