Teamsters Stand in Solidarity with DHL Express Workers in South Korea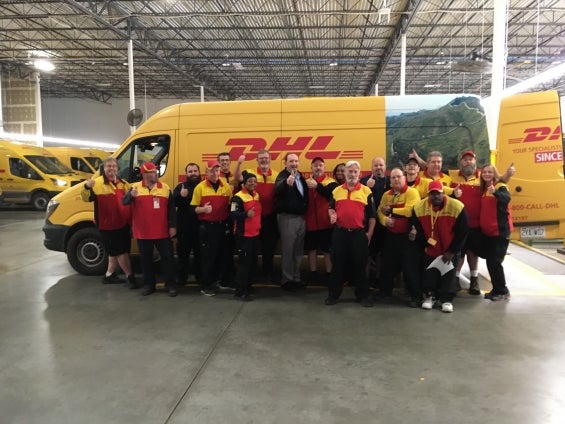 Press Contact: Kara Deniz Phone: (202) 624-6911 Email: kdeniz@teamster.org
(WASHINGTON) – Teamsters at DHL Express are voicing their support for DHL Express workers in the Republic of Korea who are members of the Korean Public Service and Transport Workers' Union (KPTU). DHL Express workers in South Korea have been seeking a first contract for the last seven months but, according to the KPTU, have been faced with bargaining avoidance and other unfair conduct from management.
"We must stand together with our fellow DHL Express workers in South Korea as they continue their struggle against a company that has not treated workers with the dignity and respect they deserve," said William Hamilton, Director of the Teamsters Express Division.
Hamilton noted messages of support and solidarity have been pouring in from Teamsters.
DHL Express workers in South Korea voted to form their union with the KPTU in April 2019 after a hard-fought campaign to win representation and a voice on the job. KPTU members went on strike from January 6-10 and again earlier this week in several locations throughout South Korea in support of their collective bargaining efforts and in protest of the company's conduct. The dispute between KPTU and the company is ongoing.
Teamsters General President Jim Hoffa, who also serves as the Chair of the International Transportation Federation's Road Transport Steering Committee, reaffirmed the Teamsters Union's support for international union allies at KPTU.
"We are part of a shared fight, and we are proud to stand with our brothers and sisters at the KPTU," Hoffa said. "By working with our international union allies in South Korea, Teamsters around the country are uniting in global solidarity to win better labor conditions for all DHL workers. Together, we will improve working conditions for DHL workers worldwide."
Founded in 1903, the International Brotherhood of Teamsters represents 1.4 million hardworking men and women throughout the United States, Canada and Puerto Rico. Visit www.teamster.org for more information. Follow us on Twitter @Teamsters and on Facebook at www.facebook.com/teamsters.
« Previous
Next »