Teamsters Mourn the Loss of Slain UPS Driver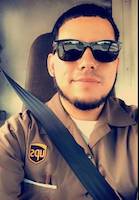 Teamsters nationwide mourned the loss of Frank Ordonez, a UPS Teamster who was killed in Florida after being taken hostage while on his route. Local 769 in Miami, the Teamster local Ordonez belonged to, has led the way in honoring Ordonez and raising funds for his family.
Ordonez was killed on December 5 after being held hostage at the scene of an attempted robbery at a jewelry store in Coral Gables, Fla. Police said two suspects opened fired while fleeing the store and carjacked Ordonez's UPS truck before leading authorities on a high-speed chase. Ordonez and another bystander were both killed in the shootout along with suspects.
"Teamster members go to work each day planning to return home safe to their friends and families and we are deeply saddened when a tragedy such as this occurs," said Jim Hoffa, Teamsters General President. "We pledge to do all we can to assist the family of Brother Ordonez."
"The solidarity on display both online and through direct calls to the union has been nothing short of inspiring during such a heartbreaking moment in time," said Josh Zivalich, President of Local 769.
To donate, send a check or money order payable to "Teamsters Local 769" (write "For the family of Frank Ordonez" on the check) to:
Teamsters Local 769
C/O The Ordonez Family
12365 West Dixie Hwy
North Miami, FL 33161
« Previous
Next »