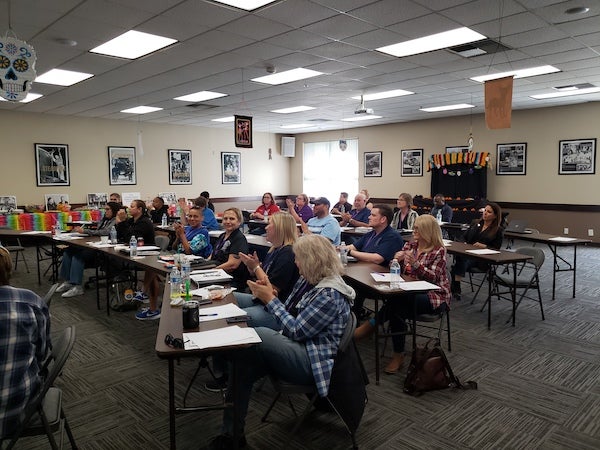 From November 1-3, the Teamsters LGBTQ+ Caucus held its Second Annual Membership Meeting at Local 1932 in San Bernardino, Calif. Attendees from across the country, including 11 local unions, the Brotherhood of Maintenance of Way Employes (BMWED) and the Brotherhood of Locomotive Engineers and Trainmen (BLET), participated.
Attendees discussed issues, legislation and initiatives affecting LGBTQ+ members, along with planning the caucus' agenda for 2020.
A new board of the caucus was elected: Margo Storsteen (BLET-57), President; Sheri Orellana (Local 1932), Executive Vice President; David White (Local 639/IBT), Treasurer; Carla Castro (Local 495), Recording Secretary; J.D. Spurgeon (Local 2010), Trustee; Misty Tanner (Local 137), Trustee; and Kathleen Brennan (Local 1932), Trustee.
Rise in Interest
The caucus, founded in 2005, has seen a rise in interest over the past few years as a direct result of outreach caucus members have been doing at Pride events and the Teamsters Women's Conference, Unity Conference and the Teamsters National Black Caucus. Local unions are contributing funds to the caucus and supporting their members by sending them to attend meetings.
"Learning about how workplace protections for lesbian, gay, bisexual and transgender members vary from state to state was eye opening," Storsteen said. "It's reassuring to know that with a Teamster contract, all members can be protected. Having a union contract may be the one thing that stops someone from being fired because they are a member of the LGBTQ+ community in some states."
The first day of the meeting was devoted to the election of a new board and to sounding out changes to the caucus' bylaws. As a result, there were intense discussions about the role of the caucus and plans for 2020.
Contact Teamsters LGBTQ+ Caucus
Gmail: [email protected]
Facebook: www.facebook.com/TeamsterLGBTQplusCaucus
Mailing address: Teamsters LGBTQ+ Caucus, PO Box 9781, Washington, D.C. 20016
« Previous
Next »