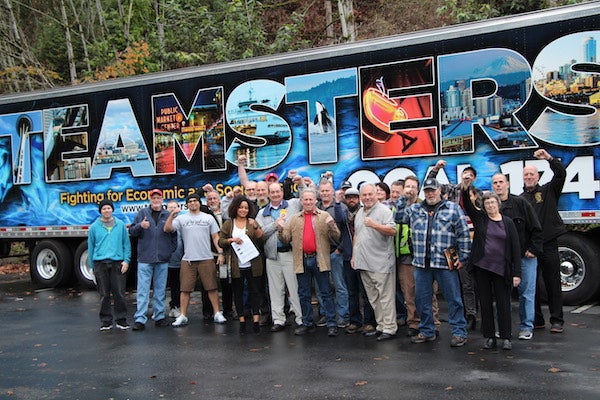 In less than a two-week period, workers at USF Reddaway in Tacoma, Wash. went from being nonunion to becoming members of Local 174, then ratifying their first contract.
The process of organizing the new workers—drivers, hostlers and dockworkers—began in September, when USF Reddaway Teamsters throughout the Western United States voted to ratify a contract which included language granting "card-check neutrality" to any groups wanting to organize with the Teamsters. Card-check neutrality means that as long as more than 50 percent of the workers sign cards saying they want to join a union, the company will recognize the union without the drawn-out legal process and NLRB election.
Once the new regional USF Reddaway contract went into effect, nonunion workers at the Tacoma location reached out to Local 174. Within a month, more than half of the workers had signed union cards. Reddaway then agreed to recognize Local 174 as the new collective bargaining representative.
Ratified Contract
Because Reddaway Teamsters are all covered by one agreement, the group was also able to avoid the delay of negotiating a first contract. Instead, workers reported to the Local 174 hall on Nov. 10, 2019, to vote on the same contract that currently covers 1,300 Reddaway Teamsters across the Western United States. The contract was ratified overwhelmingly.
The new contract increases wages and provides workers access to Teamster health care, including the retiree health and welfare plan, for the first time. It also includes worker protections for subcontracting, seniority and transfer rights.
"It's amazing to think that just a few weeks ago, we were nonunion and management could push us around and treat us however they wanted, but now we are covered by a Teamster contract," said driver Jim Dahl.
"This marks a victory in every sense of the word, as all aspects of these workers' jobs are about to improve," said Local 174 Secretary-Treasurer Rick Hicks. "But beyond that, this victory also shows the importance of current Teamster members standing strong and negotiating card-check neutrality language into their contracts."
« Previous
Next »