Teamsters Reach Agreement with US Foods, Safeway-Albertsons in Response to COVID-19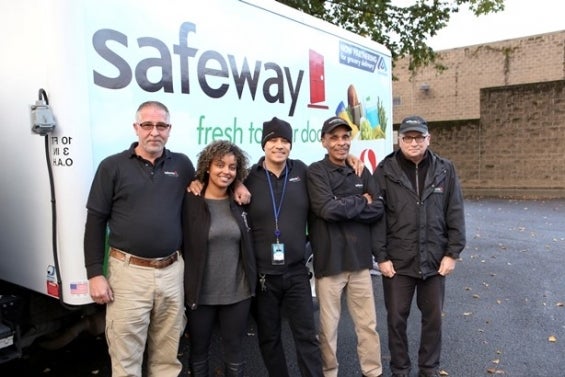 (WASHINGTON) – Teamster representatives have reached a significant agreement with US Foods and Safeway-Albertsons in response to the COVID-19 pandemic. The new, temporary agreement will allow members of Teamsters Local 455, Local 690, Local 174 and Joint Council 28 to continue working through the public health crisis and serve as a template for other locals across the country.
"Our work is needed now more than ever, and this agreement meant a lot to all of us," said Pablo Coria, a 15-year employee at US Foods and Steward for Local 455. "I had the seniority to stay at US Foods, but there was no change to our contract whatsoever so I decided to make the switch to help my co-workers. I am just blessed to be working and very grateful to the Teamsters for fighting to keep us working."
The food service industry has been classified as "essential infrastructure" by the federal government and supermarkets are required to operate during the pandemic. Both companies agreed for bargaining unit members employed by US Foods to begin performing work at Safeway distribution centers to address the imbalance between the broadline foodservice and grocery industries caused by the coronavirus outbreak.
"Safeway has agreed to honor the workers' union contract at US Foods in its entirety," said Larry Kroetch, Business Agent for Local 690 and Joint Council 28 Warehouse Division Chair. "This agreement will ensure warehouses are staffed and stocked, and it will ensure communities have access to food by keeping professional drivers on the road."
Union representatives worked quickly with both companies to prevent a scale back in operations at US Foods, preventing furloughs and time cuts for its members amid the COVID-19 crisis, Kroetch noted.
"This is the way unions and companies work together on creative solutions in times of crisis. This is the way we keep people working, and it will serve as the template for more locals moving forward," said Steve Vairma, President of Local 455 and Director of the Teamsters Warehouse Division. "I commend both companies for their commitment to their workers during these difficult times and hope other companies will step up to the plate and follow suit."
US Foods has 25,000 employees and 75 distribution facilities. The Teamsters represent 4,300 US Foods employees, with 43 contracts at 27 facilities. Founded in 1903, the Teamsters Union represents 1.4 million hardworking men and women throughout the United States, Canada and Puerto Rico. Visit www.teamster.org for more information. Follow us on Twitter @Teamsters and "like" us on Facebook at www.facebook.com/teamsters.
« Previous
Next »