Update from the Teamsters Motion Picture and Theatrical Trades Division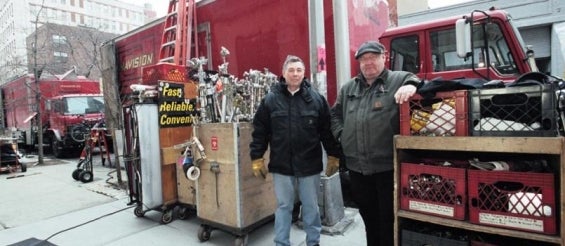 An update from Tom O'Donnell, Director, Motion Picture and Theatrical Trades Division:
I hope this communication finds you and your families well.
No workers have been more severely impacted by this pandemic than entertainment workers. All locals that were experiencing robust employment are now reporting virtually no employment. All production has ceased or has been indefinitely suspended.
I have talked to the producing companies to ascertain that they will do the right thing by us and for the most part they are.
Disney/Marvel/ABC/Fox state they will pay crew through April 3.
NBC/Universal, CBS, Paramount, Sony, Netflix, Lionsgate, Jax Media, Apple, Warner Brothers say they will pay two weeks.
If your show wrapped as originally scheduled, there would be no additional pay. If there was only one week remaining in the original schedule, then you would be paid one week. There are some discrepancies. Some companies are treating features & pilots differently from series.
For example, CBS will only pay one week on pilots, while Paramount will pay two weeks. From show to show, there is discrepancy as to what is "core crew". Logically, it would be those workers engaged weekly with an expectation of continued employment, yet companies such as Lionsgate may narrow that description.
Some companies may also pay part timers. For example, if an individual has been averaging one day a week on a CBS show, they would be paid two additional days over the next two weeks. Some companies are paying guarantees, most are paying base rates. Benefit contributions are to be paid on all additional pay. Beyond this initial time period, there is no commitment to pay more. Companies are saying they will reassess in the future. For those working in commercial production, legitimate theatre, or concerts there is little or no additional pay.
Currently, there is no pending legislation that takes into account the freelance nature of entertainment workers. The Division is in talks with IATSE, SAG-AFTRA, and the DGA in addressing our plight. Senator Schumer and Representative Schiff have been approached about restructuring existing or creating novel legislation beneficial to us. Specifics are still being formulated but may focus on the federal government enabling states to make changes to unemployment insurance, boosting benefits, and possibly restructuring employment look back periods. General President Hoffa has pledged the full weight of the IBT in our lobbying efforts.
I encourage local union leaders to speak to participating health funds as to what contingency plans are under consideration should this pandemic impact industry employment for an extended period of time. Some sectors, such as grocery and small package, have reported an increased need for drivers, I would ask Joint Council Presidents to refer such work to the qualified men and women of this division.
I will make regular updates as developments occur. Together as Teamsters, we will get through this. Be well.
« Previous
Next »