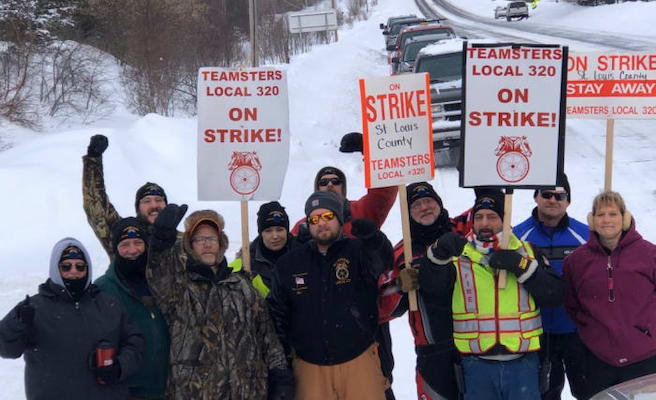 Local 320 Teamsters employed by the St. Louis County Public Works Department were forced to engage in a county-wide strike during the coldest portion of winter. After standing strong in the face of a recalcitrant employer, Teamsters got a great contract.
"This was a tough decision for the membership to make," said Brian Aldes, Local 320 Secretary-Treasurer, when the strike was first called. "However, the Teamsters employed by St. Louis County deserve parity of benefits with the civil service and merit employees."
The work stoppage began on January 15, 2020, and affected every Public Works Department location within St. Louis County, Minn. Not a single Teamster crossed the picket line during the strike.
"Teamsters want the opportunity to do what we do best, keep our roads clear and safe," said plow truck driver Cory Garden during the strike. "We want to make sure families across the county are safe to travel."
"These hardworking employees make a daily commitment to drive into blizzard conditions when most folks avoid inclement weather," said Erik Skoog, Local 320 Recording Secretary and chief negotiator. "These employees spend nights, holidays, and weekends clearing roads in dangerous conditions and will not continue to be second-class employees."
Unanimously Ratified
On January 20, Local 320 unanimously ratified the tentative agreement with the St. Louis County administration.
The county agreed to allow the group to join the Teamsters Joint Council 32 Health and Welfare Plan, including dental and vision coverage for bargaining unit employees. Family coverage will save employees as much as $500 per month.
"The agreement that was ratified is groundbreaking for St. Louis County employees," Aldes said. "The vacation accrual has been standardized for all bargaining unit employees and sick leave accruals have been increased."
The county also agreed to an employer-financed Health Savings Account and two more personal days for the bargaining unit employees. Plus, the agreement will provide wage increases every year of the contract.
"We want to thank all the elected leaders, candidates, and St. Louis County Board members who stood with us during these difficult days," says Sami Gabriel, President of Local 320 and Teamsters Joint Council 32 DRIVE (Democratic, Republican, Independent Voter Education). "We also must thank the countless labor unions, churches, neighbors, community groups, and regular citizens who supported striking Teamsters with donations and encouragement. The response from the community has been outstanding."
« Previous
Next »