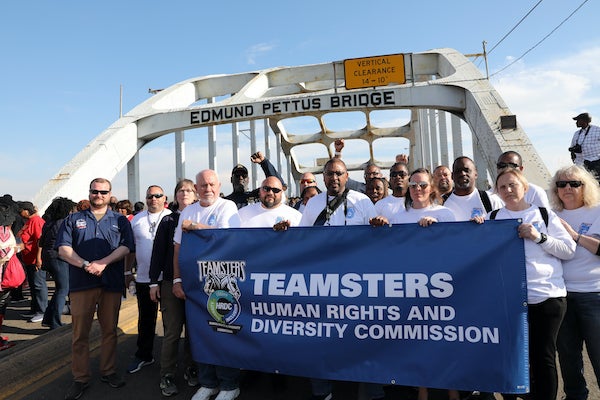 On March 1, Teamsters on the Human Rights and Diversity Commission (HRDC) participated in the 55th anniversary of the March on Selma in Alabama.
The march commemorates the events of "Bloody Sunday" in 1965 when civil rights protesters led by Dr. Martin Luther King were brutally attacked by local police as they marched across the Edmund Pettus Bridge demanding voting rights.
"It was incredible marching across the Edmund Pettus Bridge with my fellow Teamsters, remembering and honoring those who came before us," said Marcus King, Director of the HRDC and President of New Jersey's Local 331.
Before the anniversary march, Teamsters prepared food bags for 1,500 children in need in Selma at Edmundite Missions. Teamsters HRDC also donated $1,000 to the mission for any needs they may have to continue the support they provide to the community.
Teamsters at the Selma march also attended workshops, educational sessions on the history of "Bloody Sunday," and discussed future goals of the HRDC.
The Teamsters Human Rights Commission was established in 1999 and the Diversity Committee was established in 2001. In 2016, at the 29th International Convention, it was decided to merge them into one entity.
« Previous
Next »