Convention and Trade Show Teamsters Setup COVID-19 Medical Facilities Across the Country
As the demand for more medical facilities has grown during the fight against the COVID-19 pandemic, convention centers have been enlisted to serve as temporary treatment centers for patients being treated or recovering from the virus.
Convention and trade show Teamsters have been brought on in Boston, New York City, Chicago and Detroit to help with construction and ongoing support of these temporary facilities. While the work is just a drop in the bucket for the thousands of members out of work due to the nationwide cancellation of trade shows and closure of convention centers and casinos, it is critical work that must be done.
"Our members are playing an invaluable role in the construction and support of these medical facilities, but our industry is still reeling from the impact COVID-19," said Tommy Blitsch, Director of the Teamsters Convention, Trade Show and Casino Division. "Whatever work that our members can do to help support treatment and containment of COVID-19 only brings us closer as a union to getting all our convention, trade show and casino Teamsters back on the job."
In Boston, more than 100 Teamsters Local 25 members at the Boston Convention and Exhibition Center, helped with the set-up and construction of a 1000-bed field hospital in April for patients with COVID-19 that can't be accommodated in local medical facilities. The field hospital will also house the homeless who have COVID-19 but do not require hospitalization.
"Local 25 Convention Center Teamsters worked extremely hard to get this job done," said Sean M. O'Brien, Local 25 President.  "We built 1,000 bed hospital in five days.  That's Teamster strong.  Hats off to the men and women in the Teamsters Local 25 Trade Show Division."
New York City's Javits Center is currently serving as another field hospital that was set up in coordination with the National Guard, Teamsters Local 807 and the Carpenters Union. Teamsters have been working around the clock to offer logistical support, unloading, loading and staging supplies.
Joe Fisher, a 25-year member of Local 807 and shop steward for the unit at the Javits Center, said that the union has a long history of pitching in during times of crisis.
"Working on this project made me feel like I was contributing and helping the effort to curb the spread of the virus," Fisher said. "We have done similar work supporting relief efforts during 9-11 and Hurricane Sandy when we processed supplies for the first responders. This is something we are always ready to do in times of crisis. We are there to help in any way we can."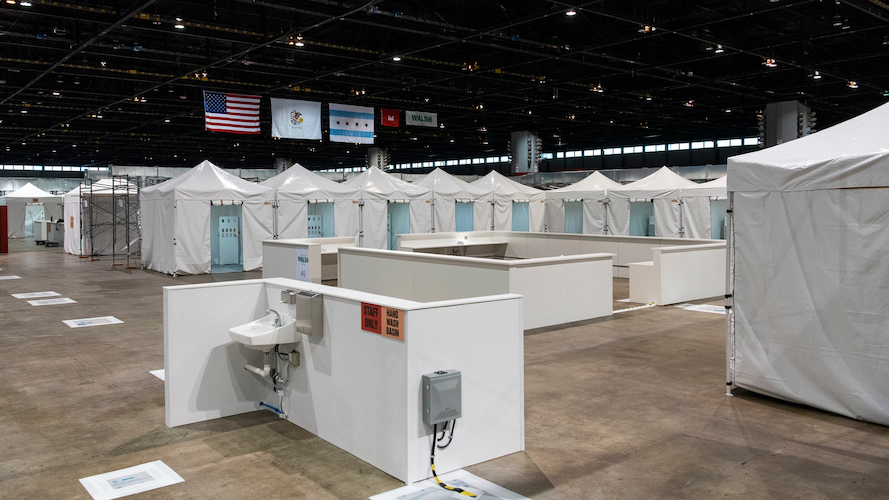 Chicago's McCormick Place Convention Center is also serving as a field hospital and members of Teamsters Local 727 have been on the job since the day one, processing and unloading critical medical supplies that are needed in the 2,250-room facility. Working in conjunction with the Army Corp of Engineers and the Illinois National Guard, the Teamsters are doing their best to help flatten the curve.
Bob Voss, Chief Steward for the McCormick Place convention and trade show workers, is glad the union could do its part, but wished there was more work to help during this difficult time. With only seven Teamsters working each day at the convention center, the vast majority of the 400-member unit are sitting at home.
"We are doing our part to assist the companies and the Army Corp of Engineers to make sure they have what they need for the treatment center," Voss said. "But we have 400 guys sitting at home who can't make ends meet with unemployment and whatever they might get from the government stimulus. The sooner we get through this the better."
In addition to Boston, New York and Chicago, Local 299 in Detroit assisted in the setup and support of a 1,000-bed Army Corp of Engineers facility in Detroit's Cobo Center and Local 631 members helped build a temporary facility for the homeless impacted by COVID-19 in Las Vegas.
"Across the country, Convention, Trade Show and Casino Division workers are doing what they can in this fight against the spread of COVID-19 despite the challenges they face both personally and professionally as a result of this pandemic," Blitsch said. "I am proud of our members and know that we will stand together through this crisis."
« Previous
Next »