Republic Services Workers Demand PPE and Improved Workplace Conditions Amid COVID-19 Pandemic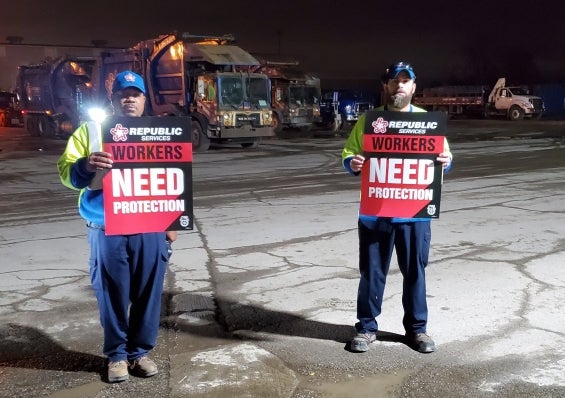 On Friday, Republic Services sanitation workers held protests — standing six feet apart — at facilities in California, Massachusetts, Georgia and Ohio, demanding that Republic Services and its largest shareholder, Bill Gates, protect workers by providing proper PPE, improving safety standards and guaranteeing to pay every worker for 40 hours of work amid the COVID-19 pandemic. The Teamsters members held signs saying "Republic Services: Workers Need Protection."
Sanitation work is considered one of the most dangerous jobs in the country, and is even more dangerous during the COVID-19 crisis. While other waste companies have taken steps to protect sanitation workers and the general public, Republic Services, the second largest sanitation company in the country, has failed to take action. Republic Services workers have reported inadequate and infrequent PPE at worksites across the country, specifically a lack of puncture-proof gloves, face masks, protective eyewear and face shields. Further, Republic Services has been reducing its workforce, moving to 30-hour workweeks and rotating worker schedules.
"It is unconscionable that in the midst of a global pandemic, sanitation workers have to protest to demand the most basic protections required simply to do their job safely," said Chuck Stiles, Director of the Teamsters Solid Waste and Recycling Division. "I am both immensely proud of the workers protesting nationwide today and saddened that they have to. We urge Bill Gates and Republic Services to take notice of these demands immediately."
"Republic Services is one of the largest private waste companies in the country, yet Republic refuses to take even the most basic steps to protect its workers and the general public," said Demetrius Tart, a 14-year for Republic Services in Cumming, Georgia. "We're here today to tell Republic Services and Bill Gates that our lives and our livelihoods are on the line during the COVID-19 pandemic, and we need the company to put its workforce ahead of profits."
The Teamsters, which represent more than 7,000 Republic Services workers across the country and 20 percent of Republic's workforce, sent a letter on March 16 to the CEOs of the four largest waste haulers in the U.S., including Republic Services. In the letter, the Teamsters called for paid sick leave, PPE for workers, and compensation benefits if workers are infected as a result of their work. Republic Services remains the only waste management company to not respond.
Instead, the company has enacted policies that force workers to report to work sick or after being exposed to the infection through family and friends. The union has received widespread reports of a lack of PPE that Republic workers desperately need, like puncture-proof gloves, face masks, protective eyewear, and face shields.
"Sanitation work is essential work, especially during a global pandemic. However, our guys do not have the gear needed to do their jobs safely, and are fearful every day of contracting the virus and bringing it home to their loved ones. Republic Services workers should not have to beg this large corporation with immense profit for basic PPE. We will not rest until Republic Services workers have the safety gear needed to keep them safe," Stiles added.
Founded in 1903, the International Brotherhood of Teamsters represents 1.4 million hardworking men and women throughout the United States, Canada and Puerto Rico. Visit www.teamster.org for more information. Follow us on Twitter @Teamsters and "like" us on Facebook at www.facebook.com/teamsters.
« Previous
Next »