Teamsters Launch Website for Non-Union Workers During COVID-19 Crisis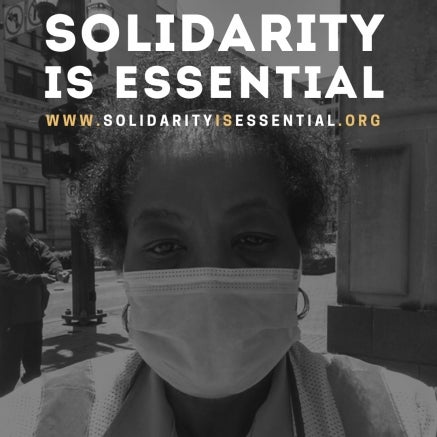 (WASHINGTON) — Since the start of the COVID-19 pandemic, there have been more than 100 walkouts and strikes, where workers have demanded appropriate safety protections. Today, on International Workers' Day, the International Brotherhood of Teamsters has launched Solidarity is Essential, a comprehensive online resource guide for non-union workers to take action and fight for safer working conditions for themselves and their co-workers.
The site offers "Know Your Rights" information for non-union workers, emphasizes the power of organizing, and weaves in elements of the fighting history of the Teamsters. During this time of crisis, the Teamsters reiterate its commitment to standing with all workers, not just union members.
"As Teamsters, we stand shoulder to shoulder with all workers fighting for safety, dignity and respect on the job — and this can only be won through solidarity," said James P. Hoffa, General President of the International Brotherhood of Teamsters. "Now, more than ever, workers need to speak up and take action to protect themselves, their families and their communities."
The union lays out a set of basic protections that should be guaranteed to every worker, including: the right to be kept safe from illness, injury or death at work; the PPE and other equipment they need to do their job safely; being given adequate time to do their work safely; paid time off; and the right to speak up about their concerns at work without fear of retaliation.
Workers have started to take action around safety concerns at a number of non-union companies all over the country as the crisis continues to worsen. For example, workers at an Amazon facility in Minnesota, who participated in a walkout, fought and won the reinstatement of one of their coworkers. At a Perdue Farms facility in Georgia, workers walked off the job in late March, noting that they did not feel safe at work, and the company had not done enough to properly protect them.
The new website also includes resources for workers to take action, including steps to build a network, understand workers' rights under federal labor law, come up with demands, and take actions like blowing the whistle or, if necessary, going on strike. It also includes health and safety tips for workers trying to stay safe on the job.
Founded in 1903, the International Brotherhood of Teamsters represents 1.4 million hardworking men and women throughout the United States, Canada and Puerto Rico. Visit www.teamster.org for more information. Follow us on Twitter @Teamsters and "like" us on Facebook at www.facebook.com/teamsters.
« Previous
Next »