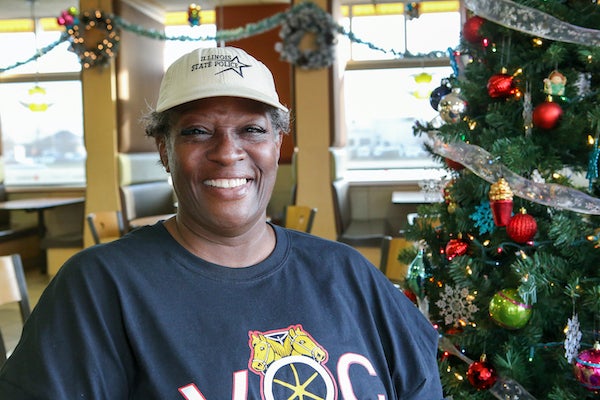 Teamster organizing is a bottom-up enterprise—so much, in fact, that "every Teamster an organizer" is an unofficial mantra of the union.
At a time when unions are under attack and many are fighting just to exist, Teamsters who work in passenger transportation are not just surviving, but thriving.
Critical to this is the fact that organizing in this sector comes from rank-and-file workers who volunteer their time and know what it's like to drive a bus or a taxi.
Emerald City Teamster Power
Uber, Lyft and other "gig" economy businesses have presented a unique challenge to labor unions because of the way they treat their workers: by treating their drivers as independent contractors instead of employees, they present a legal roadblock to unionizing.
In Seattle, Local 117 has fought back not just with lawsuits and legislation, but by empowering Uber and Lyft drivers as volunteers.
Lata Ahmed is a former Uber driver who now works as a Local 117 organizer; he started by volunteering his free time.
"I started working as a driver with Uber and Lyft, and after a while I noticed, and starting asking questions, 'Why aren't we getting paid well?' 'Why don't we have rights at work?'" Ahmed said. "I found out that we all need to fight this fight so all Uber and Lyft drivers can have rights on the job. I know that most of the drivers have the same potential to stand up as I do, to demand a voice."
"Having our movement to organize Uber and Lyft be led by those who work or have worked for Uber and Lyft is critical to our mission of bringing respect, dignity, and proper legal protections to these jobs," said John Scearcy, Secretary-Treasurer of Local 117 in Washington state.
Ahmed and Local 117's hard work is already paying off. At the behest of lobbying from the Teamsters, last year the city of Seattle passed a law that will institute a first-ever grievance procedure for the city's more than 30,000 Uber and Lyft drivers.
This groundbreaking legislation establishes first-in-the-nation legal protections and representation for drivers who seek to contest unwarranted deactivations in termination proceedings and establishes a Driver Resolution Center to provide a wide range of support services to drivers.
Leaders of Tomorrow
One of the most successful uses of volunteer organizers has been in the private school bus industry. Local 777 in Lyons, Ill. developed a volunteer organizing committee (VOC) that puts the movement into the hands of its members—house visits, committee meetings and the various other components of a campaign are led by school bus drivers and monitors.
Local 777 President Jim Glimco is also the Central Region Coordinator for the Passenger Transportation Division, and he said that the VOCs have been critical to the success of organizing school bus workers.
"Being in the labor movement, you do a lot of different things, but I think organizing is the most fun," Glimco said. "We've really turned this into a great organizing powerhouse for what we do. When our members and our stewards go out and talk to workers at these other locations, they really enjoy it."
Deena Williams is a Local 777 shop steward who is a part of the VOC. She's been a school bus driver for four years, and she brings her granddaughter with her to volunteer sometimes.
"I'm very honored to work with such great people," Williams said. "The people at Local 777 are so professional, caring and giving, so I wanted to give back."
Phyllis Pepper is another First Student steward who serves on the VOC. Two years ago, she joined her fellow VOC members on a trip to Chattanooga, Tenn., where they were part of the organizing team that successfully brought the Teamsters to drivers and monitors who transport students for Hamilton County Public Schools.
"With Tennessee being a right-to-work state, this wasn't easy," Pepper said. "Still, the workers really wanted to be members of the union, and they were ready to conquer any challenge that came their way."
A Rising Tide
Local 777 isn't the only place where Teamsters are using VOCs in the school bus industry: Local 955 in Kansas City, Mo. developed a VOC as well, and it was critical to winning an election at Apple School Bus in nearby St. Joseph, Mo.
Local 955 Shop Steward Stacey Arbuckle is a member of the Local 955 VOC who used to work at the Apple School Bus yard they were organizing, so she was an invaluable resource during the campaign.
"The membership understands what school bus drivers are going through every day because we're out there driving a bus just like they are," Arbuckle said. "We're able to relate to them better than anyone because we encounter the exact same issues at work."
"Our members are in a unique position to make our organizing campaigns successful," said Jerry Wood, Local 955 President.
"Increasing our density isn't just good for new members, it's also good for the members who have been under a contract for a number of years," Wood said. "The more members we have in a given area, the better our collective bargaining agreements become. A rising tide lifts all boats."
« Previous
Next »