COVID-19 News Updates from June 23, 2020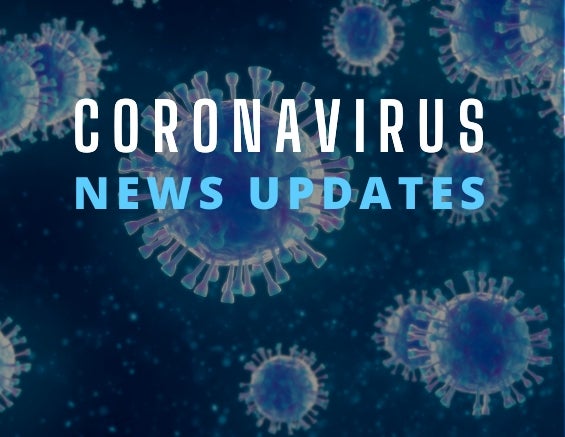 Guidelines for Opening Up America Again
President Trump has unveiled Guidelines for Opening Up America Again, a three-phased approach based on the advice of public health experts. These steps will help state and local officials when reopening their economies, getting people back to work, and continuing to protect American lives. Please click here for more information: Guidelines for Opening Up America Again
· Testing Overview (HERE)
· Testing Blueprint (HERE)
· Guidance for Cleaning and Disinfecting Public Spaces, Workplaces, Businesses, Schools and Homes (HERE)
· CDC guidance for Camps, Child Care Programs, Schools, Mass Transit, Restaurants And Bars, and Workplaces
· CDC Activities and Initiatives Supporting the COVID-19 Response and the President's Plan for Opening America Up Again (HERE)
White House Updates
· President Trump Delivers an Address to Young Americans (VIDEO)
· President Trump Participates in a Roundtable Briefing on Border Security (REMARKS, VIDEO)
· Remarks by President Trump Before Marine One Departure (REMARKS, VIDEO)
· Remarks by Vice President Pence at the Faith in America Tour | Pewaukee, WI (REMARKS)
· Readout from the Vice President's Governors Briefing on COVID-19 Response & Recovery (HERE)
· ICYMI | Trump to Cut 525,000 Foreign Guest-Workers to Speed COVID Jobs Recovery (HERE)
· Daily 1600: President Trump Speaks in Phoenix (HERE)
Experts Identify Steps to Expand and Improve Antibody Tests in COVID-19 Response (HERE)
· More than 300 scientists and clinicians from the federal government, industry and academia published a report of their conclusions and recommendations on COVID-19 serology studies online in Immunity.
CDC COVID-19 Partner Update: Tips for Staying Safe during Daily Activities – June 22, 2020 (HERE)
· Dr. John Brooks and Dr. Emily Ussery shared guidance for the private sector, including what CDC knows at this point and what CDC is doing in response to this outbreak with and tips for staying safe during daily activities.
CMS Unveils Major Organizational Change to Reduce Provider and Clinician Burden and Improve Patient Outcomes (HERE)
· Today, the Centers for Medicare & Medicaid Services (CMS) is announcing the creation of the Office of Burden Reduction and Health Informatics to unify the agency's efforts to reduce regulatory and administrative burden and to further the goal of putting patients first.
HHS Announces MENTAL Health Innovation Challenge (HERE)
· Today, the Administration for Community Living (ACL) and the Office of the Assistant Secretary for Health launched the MENTAL Health Challenge to combat the social isolation and loneliness that older adults, people with disabilities and veterans often experience. A total of $750,000 in prizes will be awarded for development of an easy-to-use online system that offers recommendations for programs, activities and resources that can help users connect to others and engage in the community, based on their individual needs, interests and abilities.

HHS Announces Partnership with Morehouse School of Medicine to Fight COVID-19 in Racial and Ethnic Minority and Vulnerable Communities (HERE)
· The U.S. Department of Health and Human Services (HHS) Office of Minority Health (OMH) announced the selection of the Morehouse School of Medicine as the awardee for a new $40 million initiative to fight COVID-19 in racial and ethnic minority, rural and socially vulnerable communities.
Frequently Asked Influenza (Flu) Questions: 2020-2021 Season (HERE)
· While it's not possible to say with certainty what will happen in the fall and winter, CDC believes it's likely that flu viruses and the virus that causes COVID-19 will both be spreading. In this context, getting a flu vaccine will be more important than ever. CDC recommends that all people 6 months and older get a yearly flu vaccine.
U.S. Department of Commerce Invests Cares Act Funding to Boost Economic Development Programs Critical to Helping Communities Respond to Coronavirus (HERE)
· EDA CARES Act Recovery Assistance, which is being administered under the authority of the bureau's flexible Economic Adjustment Assistance (EAA) (PDF) program, provides a wide-range of financial assistance to eligible communities and regions as they respond to and recover from the impacts of the coronavirus pandemic. For complete information, please visit our recently updated EDA CARES Act Recovery Assistance page.
o Greater Egypt Regional Planning & Development Commission, Marion, Illinois
o North Central Texas Council of Governments, Arlington, Texas
o Northwest Pennsylvania Regional Planning & Development Commission, Oil City, Pennsylvania
o Mid-America Regional Council, Kansas City, Missouri
o University of Alaska-Anchorage, Anchorage, Alaska
IRS Announces Rollover Relief for Required Minimum Distributions from Retirement Accounts that were Waived Under the CARES Act (HERE)
· The Internal Revenue Service today announced that anyone who already took a required minimum distribution (RMD) in 2020 from certain retirement accounts now has the opportunity to roll those funds back into a retirement account following the CARES Act RMD waiver for 2020.
Federal and State Regulatory Agencies Issue Examiner Guidance for Assessing Safety and Soundness Considering the Effect of the COVID-19 pandemic on Financial Institutions (HERE)
· Stresses caused by the spread of COVID-19 have led to significant economic strain and adversely affected global financial markets. The interagency guidance instructs examiners to consider the unique, evolving, and potentially long-term nature of the issues confronting institutions due to the COVID-19 pandemic and to exercise appropriate flexibility in their supervisory response.
Weekly Update: DHS Response to COVID-19 (HERE)
· The Department of Homeland Security remains vigilant against the COVID-19 virus and continues to lead the national response to minimize the impact of COVID-19 on American citizens and workers. As the nation transitions to a phased approach of reopening the economy the Department and its components remain steadfast in their commitment to ensure a safe, secure, and prosperous Homeland for the American people.
Trump Administration, DHS Prioritizes American Citizens for American Jobs (HERE)
· The Department of Homeland Security (DHS) announced it will begin implementing a Trump Administration proclamation to protect American workers in the wake of unprecedented unemployment caused by COVID-19.
U.S. Department of Labor Offers Webinar on Coronavirus-Related Paid Sick Leave Requirements for Business Owners, Employers and Other Stakeholders (HERE)
· The U.S. Department of Labor's Wage and Hour Division (WHD) in Kansas City, Kansas, is joining with the IRS and the U.S. Small Business Administration to present a webinar to review paid sick leave requirements, tax relief and other coronavirus-related information critical for employers and business owners.
U.S. Department of Labor Announces Online Tool to Help Workers Determine Eligibility for Paid Sick Leave Due to Coronavirus (HERE)
· The U.S. Department of Labor today launched an interactive online tool to help workers determine if they qualify for paid sick leave or extended family and medical leave to cover time away from work for reasons related to the coronavirus.
FDA Daily Roundup June 22, 2020 (HERE)
· The U.S. Food and Drug Administration continues to announce actions taken in its ongoing response effort to the COVID-19 pandemic.
USDA Farmers to Families Food Box Program Reaches 20 Million Boxes Distributed (HERE)
· U.S. Secretary of Agriculture Sonny Perdue announced today that the U.S. Department of Agriculture's (USDA) Farmers to Families Food Box Program has distributed more than 20 million food boxes in support of American farmers and families affected by the COVID-19 pandemic.
USDA Approves Kansas to Accept SNAP Benefits Online (HERE)
· U.S. Secretary of Agriculture Sonny Perdue today announced approval of a request from Kansas to provide online purchasing of food to Supplemental Nutrition Assistance Program (SNAP) households.
For the most up-to-date information, please see the CDC's website: www.coronavirus.gov.
« Previous
Next »