During Coronavirus Crisis, Union Steps Up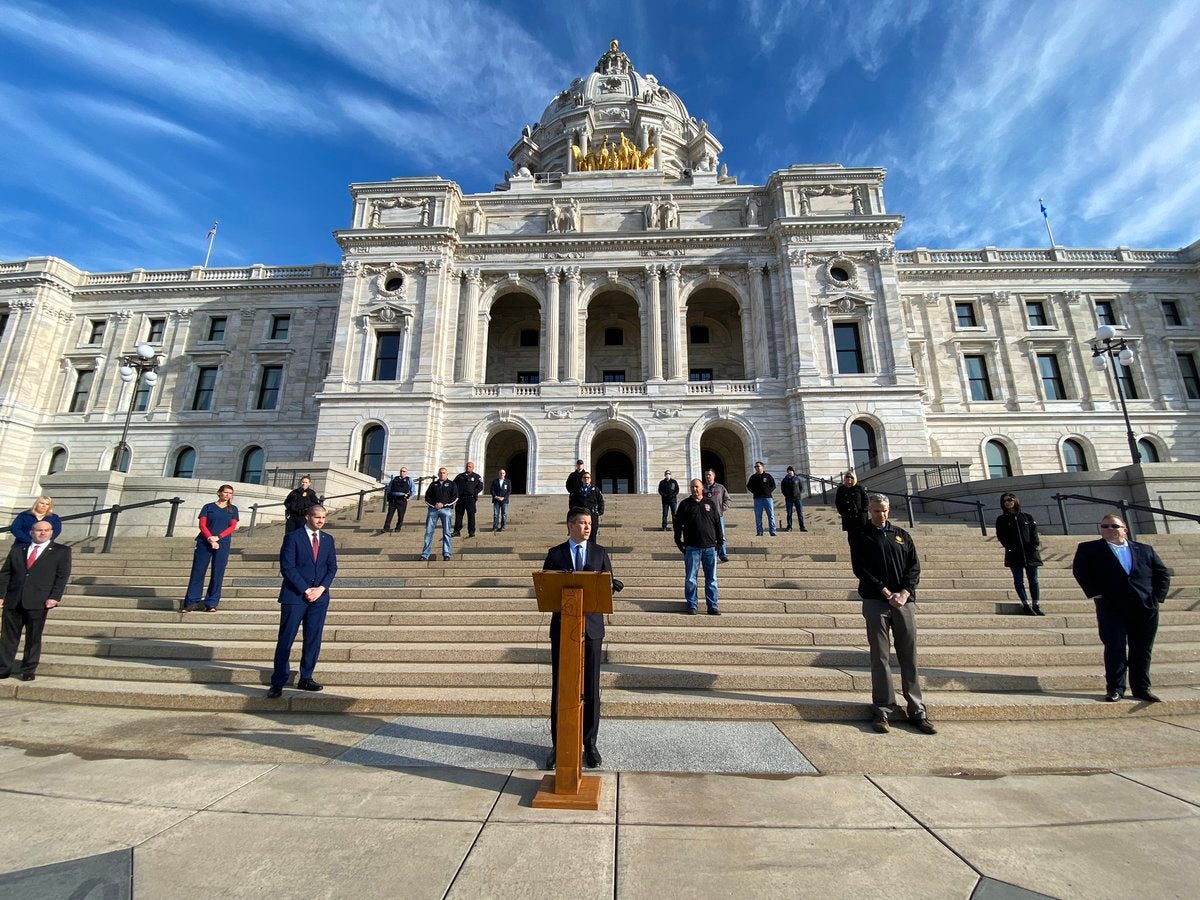 On National, State and Local Levels, Teamsters Protect Workers
The coronavirus quickly brought the American economy to a standstill. COVID-19 is the biggest disruption to the U.S. workforce since the Great Depression. Tens of millions of Americans have filed for unemployment, forced out of jobs by a pandemic that has shuttered businesses, many never to reopen again.
Putting people back to work is going to require a historic federal plan that restores employment to millions of Americans and makes transformational changes to ensure the safety and economic security of working Americans.
"The coronavirus pandemic continues to affect hardworking Americans' everyday life," Teamsters General President Jim Hoffa said. "The toll this scourge is enacting on the public is immense. That's why the Teamsters are pushing even harder now to get the support working families need."
The Teamsters have led the fight to make sure that the needs of its members – and all hardworking Americans – are heard. That means addressing not only the economy, but workplace safety, pensions, infrastructure investment and more.
Advising the President
Hoffa was appointed to the Great American Economic Revival Industry Group by President Trump in mid-April and shared with him and other members the top needs of members, including increased access to personal protective equipment (PPE), sanitizer and a disinfected workplace; easy access to reliable testing; and having the Occupational Safety and Health Administration (OSHA) implement a broad federal standard so that bad actor employers can be held accountable.
"It is important that working people have a voice as our nation works to find a way through the COVID-19 pandemic and to restart the economy," Hoffa said.
The coronavirus pandemic has brought into focus now more than ever the need for improved health and safety standards for frontline workers who have placed their lives and those of their loved ones at risk to serve their fellow Americans. And the Teamsters have been a leading voice to ensure that they are protected.
The union has placed paramount importance on making sure its more than 1 million essential worker members and others still working are protected. And that required the Teamsters to strongly advocate for expanded safety rules on the job.
PPE and Pensions
The Teamsters Union urged OSHA to issue a temporary emergency standard that covers all workers, including public sector employees in states that have not opted into OSHA coverage, as well as transportation workers not covered by another federal safety agency.
The Teamsters also called on Congress to provide funds for appropriate PPE and make those materials widely available, as well as a non-retaliation policy as a piece of comprehensive health and safety standards to ensure that workers can report non-compliance violations without fear of reprisal.
The House-passed HEROES Act additionally contained the Emergency Pension Plan Relief Act that would require the federal government to set up a partition program at the Pension Benefit Guarantee Corporation to rescue financially troubled multiemployer pension plans without cuts to benefits.
Unfortunately, the House bill also included the controversial GROW Act, which permitted the creation of so-called composite plans. The Teamsters were deeply disappointed at the inclusion of the GROW Act, as it is unproductive and will prove to be divisive moving forward.
It is imperative that Congress protect retiree benefits, do no harm to healthy plans, and provide the financial stability that multiemployer plans need.
As of press time, it was unclear when the Senate will move to begin negotiations or introduce their own stimulus package.
Additionally, the Teamsters have also pushed those on Capitol Hill to repeal the CARES Act rule that limits use of the $150-billion Coronavirus Relief Fund to only an unbudgeted response to COVID-19. This restriction blocked states from addressing the substantial revenue losses governments are experiencing at a time when there is also a sharp increase in demand for services.
Invest in Infrastructure
But when it comes to a way forward to revitalize the American economy, the union argues that one old reliable proposal is needed now more than ever – infrastructure investment.
The country needs a 21st century version of President Franklin D. Roosevelt's New Deal that put Americans back to work. Infrastructure improvement is a great place to start.
Our nation's infrastructure is in poor shape. We need to rebuild roads, bridges, public transit, airports, broadband networks, rails, power grids and more. These things are used by all Americans and our failure to maintain and improve this infrastructure is taking a toll.

Increasing investments in infrastructure is essential to turning the economy around because those jobs can't be sent overseas. They also improve living standards for all Americans.
Getting a bipartisan plan signed into law is a challenge that congressional leaders are going to have to come together to solve. More funds will be necessary to get it done. The importance of doing so, however, cannot be dismissed.
There was a time when building roads and rails weren't just political issues – they were American values, something everyone could support. The leadership in Washington, D.C. has an opportunity to return to that era right now by breaking political gridlock. Americans need that now more than ever.
State Action
Teamsters across the country have also fought to shape state-level public policy during the pandemic. Whether it be protecting workers through workplace standards, pushing to expand unemployment, or holding employers accountable, Teamsters have been in on the fight.
Minnesota Teamsters, for instance, joined with eight other unions in the state to push for the enactment of a new law in April that guarantees workers compensation and full health coverage for first responders and other frontline workers who come down with coronavirus.
Previously, workers had to prove that any instance of COVID-19 was caused by their job – an impossible task. But Gov. Tim Walz signed a bipartisan bill that presumes that if a frontline worker contracts the virus, it was done so while on the job. It is a win for workers who are putting their lives at risk to serve the public, and has served as a model for other states to follow.
Other states have expanded the definition of essential workers to include food distribution workers, including those who work in the warehouses. Such a move increases the types of benefits they are eligible to receive from the state, such as assistance with childcare.
Safety and Health Standards
Teamsters are also fighting back against the anti-union forces that look to take advantage of the pandemic in pushing their agenda.
Teamsters are on the front line against efforts by politicians to provide overly broad, blanket liability protection to businesses, making it more difficult for workers or patrons to hold employers accountable if they discard safety standards.
While Teamsters and workers everywhere are ready to get back to work, there must be safety and health standards in place that are effective and enforceable. If employers purposefully discard safety guidelines, Teamsters are making sure that penalties will exist.
Teamster members have been the essential workers who have gotten the country through this unprecedented pandemic. From delivering food and essential materials, to keeping our communities safe, to caring for patients in hospitals, the Teamsters have been there.
Elected officials must recognize that fact, step up to the challenge, and support all working Americans who need help now more than ever.
« Previous
Next »