At DNC, Teamster VP Murphy Explains Why Pension Reform is Needed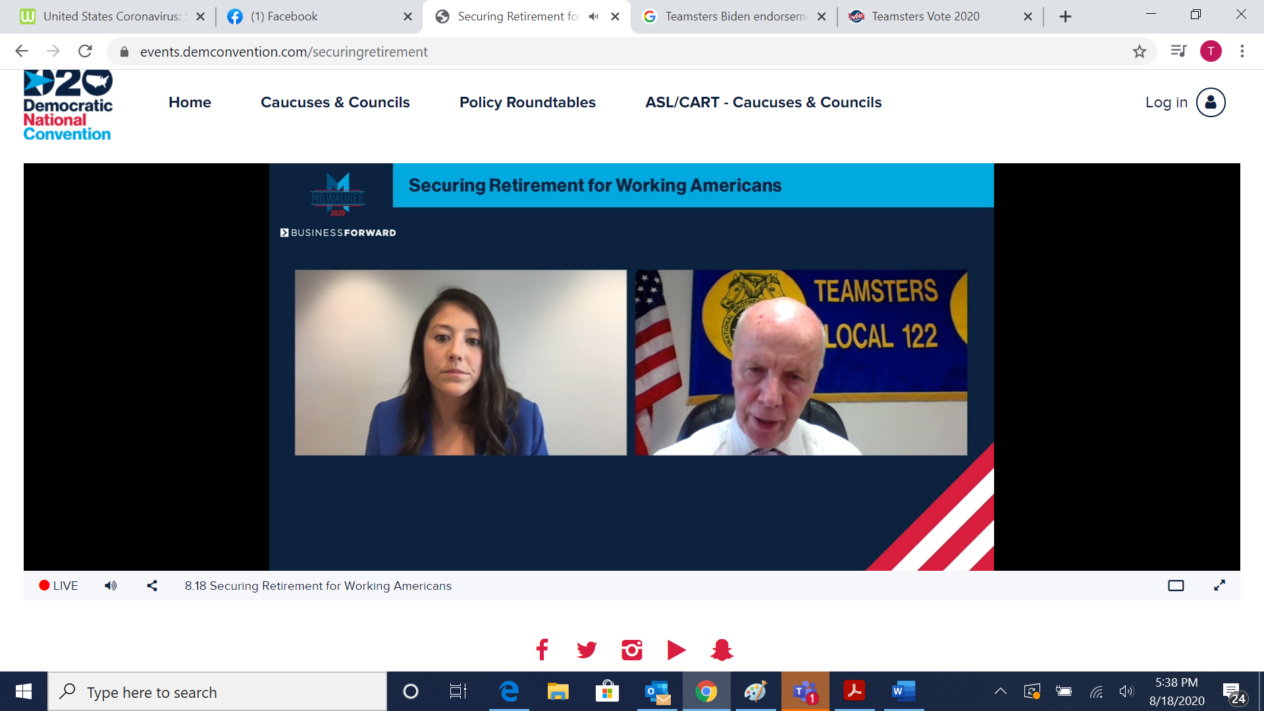 A top Teamster voice on the issue of pension security joined with the House Ways & Means Committee chairman and other union leaders yesterday in calling for reforms that would boost failing multiemployer pensions plans to ensure that workers and retirees get the benefits they deserve.
International Vice President John Murphy, one of several participants in a virtual panel on retirement security at the Democratic National Convention, said there is no time for delay in coming up with a solution to the nation's multiemployer pension crisis, which is jeopardizing the hard-earned nest eggs of some 1.5 million Americans.
"Today, approximately 125 pension plans face insolvency in the next 10 years," he told viewers. "Congress must fund the failing pension system. General President Hoffa of the Teamsters has promised he will not rest until it happens."
The Teamsters have worked closely with House Ways & Means Chairman Richard Neal (D-Mass.) over the past several years to craft pension reform legislation that would stabilize funds like the union's Central States Plan. That bill, known as the Butch Lewis Act, passed the House with bipartisan support in July 2019 but has remained stalled in the Senate. Efforts to reach a consensus on the issue are ongoing.
"What we are asking for as John Murphy described … is not the federal government to bailout the pension plans, but provide a backstop," Neal said. "We don't want to say to someone who is 58 years old that they need to take a benefit cut."
Marc Perrone, the United Food & Commercial Workers' International President, acknowledged that pension reform can be a complicated issue. But he said it is one that cannot be ignored, given those who participate in multiemployer plans have contributed their own dollars to them and have done nothing to deserve having their retirements imperiled.
"It is time for the executive branch and Congress to fix this problem. Not only because it is the moral thing to do, but because it is good public policy," he said. "We must choose to lead where others have not."
Ben Harris, a Biden-Harris campaign senior adviser, agreed.
"Just because that compensation is deferred, doesn't mean workers have any less right to it," he said. "There is a real fairness element here. They paid into it and should have it. And under a Biden administration, they will."
Murphy has spent the last five years traveling across the country hearing from members and their families about what will happen if their benefits are cut. He recalled a visit to Buffalo, N.Y., where he spoke to a retiree who told him he would have to put his wife – who suffers from multiple sclerosis – in a Medicaid nursing home if his benefits were slashed.
Those stories, he said, bring this retirement crisis into focus.
"I am passionate about this because this issue is real and it matters to millions of Americans," Murphy said. "These are human stories. When Franklin Roosevelt created the New Deal, he said the government would create a social safety net so you can live with dignity. That net is being torn up."
« Previous
Next »