COVID-19 News Updates for September 8, 2020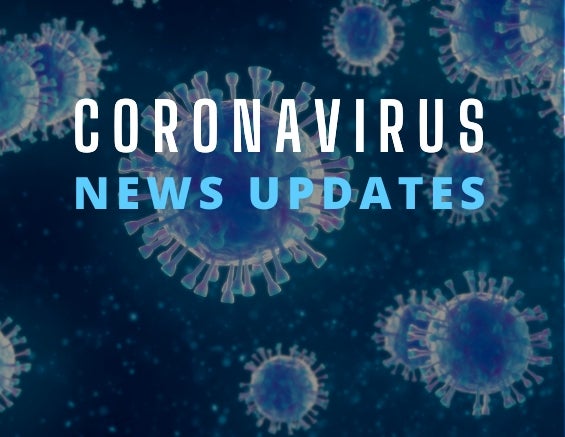 Today, the White House Coronavirus Task Force met to discuss vaccines in Phase 3 trials and plans for nationwide distribution. Under President Trump's leadership of Operation Warp Speed, unprecedented progress on a safe and effective vaccine is being made. Using the resources of the federal government and the U.S. private sector, Operation Warp Speed (OWS) will accelerate the testing, supply, development, and distribution of safe and effective vaccines, therapeutics, and diagnostics to counter COVID-19 by January 2021. More information about Operation Warp Speed can be found here.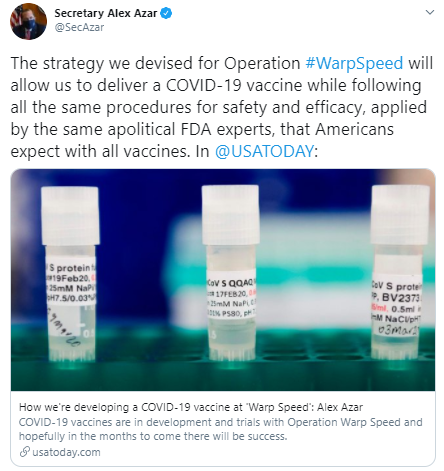 FDA Coronavirus (COVID-19) Update Daily Roundup – September 8, 2020 (HERE)
The U.S. Food and Drug Administration continues to announce actions taken in its ongoing response effort to the COVID-19 pandemic.
Helping People and Keeping them Safe (HERE)
Disasters don't wait for a convenient time to strike a community. 2020 has brought us floods, tornadoes, earthquakes and hurricanes, all while the world deals with the coronavirus 2019 (COVID-19), pandemic. COVID-19 changed the landscape of disaster response, and FEMA has focused on finding ways to meet unique challenges in this new environment. The Individual Assistance program is one example of how FEMA leveraged virtual delivery to provide help to survivors.
IRS to Mail Special Letter to Estimated 9 Million Non-Filers, Urging Them to Claim Economic Impact Payment by Oct. 15 at IRS.gov (HERE)
Later this month, the Internal Revenue Service will start mailing letters to roughly nine million Americans who typically don't file federal income tax returns who may be eligible for, but have not registered to claim, an Economic Impact Payment.
SBA Celebrates Women Empowerment and Entrepreneurship with Opening of Mississippi Women's Business Center (HERE)
The U.S. Small Business Administration today announced grant funding for a new SBA Women's Business Center in Mississippi, which will be hosted by Alcorn State University, a designated historically black college and university (HBCU) in Claiborne County, Mississippi. SBA is committed to safely opening WBCs and expanding resources for women entrepreneurs who continue to succeed at making an impact on our nation's job creation and economic recovery.
USDA Approves D-SNAP for Louisiana Disaster Areas (HERE)
The U.S. Department of Agriculture (USDA) announced today that low-income Louisiana residents recovering from Hurricane Laura could be eligible for a helping hand from the USDA's Disaster Supplemental Nutrition Assistance Program (D-SNAP). The state will operate D-SNAP for 16 parishes in two phases – one beginning this week, and the other next week. Operations will be entirely virtual due to the COVID-19 pandemic. Louisiana will share information about D-SNAP application dates and locations through local media.
WTAS: USDA Extends Free Meals for Kids through December 31, 2020 (HERE)
Last week, U.S. Secretary of Agriculture Sonny Perdue announced the U.S. Department of Agriculture (USDA) will extend several flexibilities through as late as December 31, 2020. The flexibilities allow summer meal program operators to continue serving free meals to all children into the fall months. This unprecedented move will help ensure – no matter what the situation is on-the-ground – children have access to nutritious food as the country recovers from the COVID-19 pandemic.
ICYMI: U.S. Department of Labor Acts to Help American Workers and Employers During the Coronavirus Pandemic (HERE)
Last week, the U.S. Department of Labor took a range of actions to aid American workers and employers as our nation combats the coronavirus pandemic.
Statement on Labor Day by U.S. Secretary of Labor Scalia (HERE)
"Today we celebrate and thank the workers of America, whose hard work, determination, and ingenuity have built and sustain our amazing country. This has been a year of extraordinary challenges for American workers, and a year of extraordinary achievements, as workers in our hospitals, farms, plants, and factories have supported one another and the nation."
U.S. Department of Commerce Continues to Invest Cares Act Funding to Boost Economic Development Programs Critical to Helping Communities Respond to Coronavirus (HERE)
EDA CARES Act Recovery Assistance, which is being administered under the authority of the bureau's flexible Economic Adjustment Assistance (EAA) program, provides a wide-range of financial assistance to eligible communities and regions as they respond to and recover from the impacts of the coronavirus pandemic. For complete information, please visit EDA CARES Act Recovery Assistance page.
To Protect Public Health during Pandemic, U.S. EPA Orders O'ahu Company Hawaii Unified Industries to Stop Selling Unregistered and Misbranded Pesticides (HERE)
Today, the U.S. Environmental Protection Agency (EPA) has ordered O'ahu-based company Hawaii Unified Industries, LLC DBA HUI Restoration (HUI) to stop distributing and selling two pesticides going by the names "InstaPURE" and "EverPURE" used as part of the company's two-step dry-fogging service.
New Study Shows Veterans Give VA Health Care Facilities and VA Community Provider Network High Marks (HERE)
A recently published study shows Veterans receiving outpatient care from the U.S. Department of Veterans Affairs (VA) health care facilities or community providers within VA's network are pleased with their experience overall. The study, Veterans' Experiences with Outpatient Care: Comparing the Veterans Affairs System with Community-Based Care, compared survey responses from more than 1 million Veterans who received outpatient care from VA facilities or private providers within VA's Choice Act network and found most rated their experiences highly.
DOD Awards Goldbelt Security, LLC, $125 Million in Support of National COVID-19 Vaccination Strategy (HERE)
On August 31, 2020, the Department of Defense (DOD), in support of the Strategic National Stockpile (SNS), part of the Office of the Assistant Secretary for Preparedness and Response within the U.S. Department of Health and Human Services (HHS), awarded $125 million to Goldbelt Security, LLC to procure 530 million syringes and needles in support of a potential U.S. COVID-19 vaccination campaign.
For the most up-to-date information, please see the CDC's website: www.coronavirus.gov.
« Previous
Next »