Teamsters Step Up During Pandemic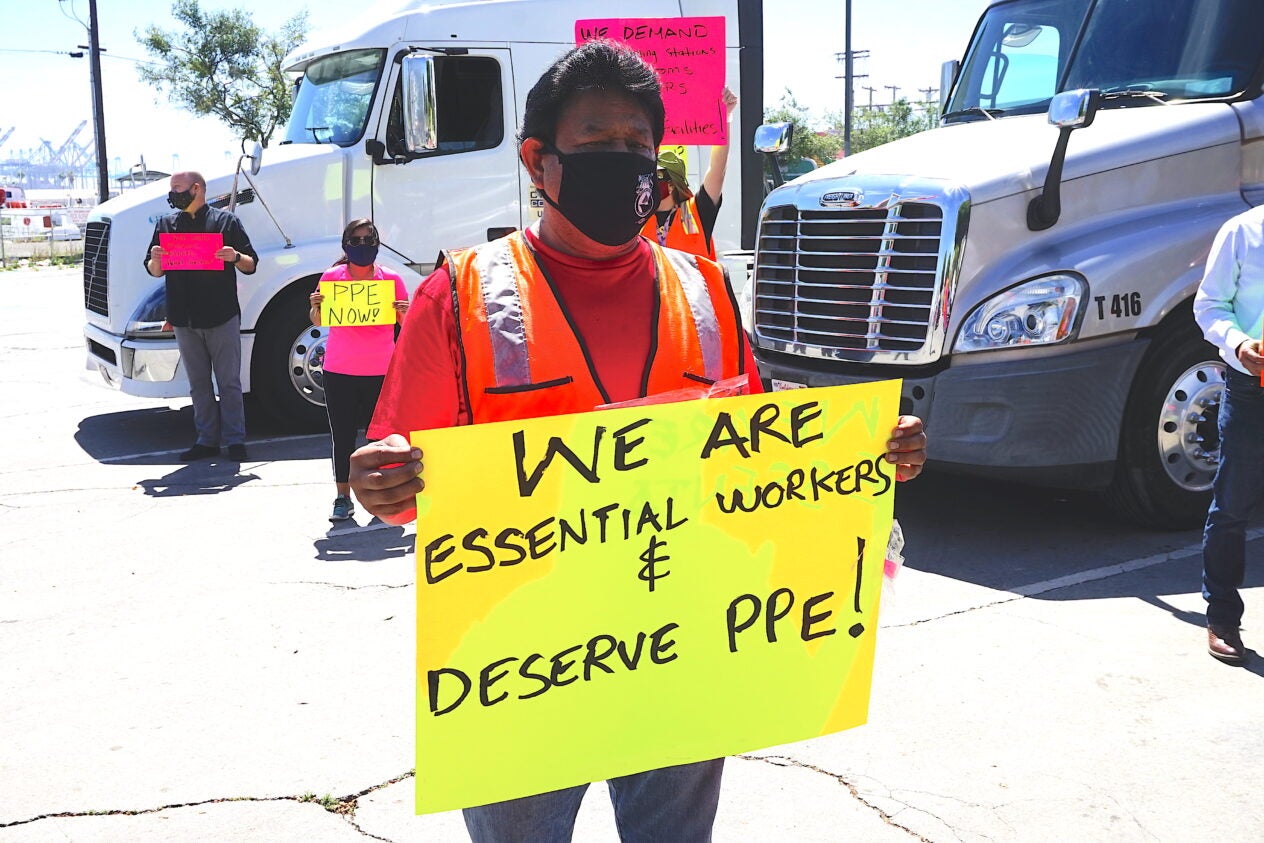 Union Continues Fighting for Safety, Accountability
As the coronavirus continues to wreak havoc on our nation and the American economy, Teamsters have continued their fight on behalf of working families struggling during this pandemic.
Through legislation at every level, demanding PPE and holding employers accountable, and with countless charitable acts, the Teamsters Union is making sure members make it through these difficult times.
"Workers are facing unprecedented challenges in the age of the coronavirus. Many have lost their jobs, been temporarily laid off with no idea when they are going to return or been forced to work despite the ongoing health crisis. It has been a stressful time for millions across the country," said Jim Hoffa, Teamsters General President.
As of September 16, the U.S. had reported 6.61 million confirmed cases of COVID-19, with nearly 200,000 of those infections resulting in death. The coronavirus has also torn the economy to shreds. Tens of millions of Americans are receiving some form of unemployment benefits in an economy where there is little hope of finding new work.
While some jobs lost since the pandemic hit have now been recovered, millions more will be harder to make up, according to experts. Employment in some sectors might remain well below pre-pandemic levels.
Teamster members are faring much better than the average worker right now. Union workers not only have more secure jobs and better pay, they have better on-the-job safety than nonunion workers.
While Teamsters and workers everywhere are ready to get back to work, there must be safety and health standards in place that are effective and enforceable. If employers purposefully discard safety guidelines, Teamsters will make sure that penalties will exist. The union is fighting efforts by politicians to provide overly broad, blanket liability protection to businesses, making it more difficult for workers or patrons to hold employers accountable if they discard safety standards.
"The Teamsters, who represent more than a million essential workers, are on the front lines, keeping North America moving," Hoffa said. "But Teamsters are doing so much more than simply working right now. We're making a difference in our communities through legislation and charitable work."
Charity Partnership
In June, Local 340 in Maine and Catholic Charities USA launched a three-day mission to deliver desperately needed food to the charitable organization's chapters across New England, starting the trip from the union hall in South Portland. Over three days, the Teamsters delivered more than 40,000 pounds of food to locations in Maine, Massachusetts, New Hampshire and Rhode Island.
Local 340 and New England's Joint Council 10 have partnered with Catholic Charities for more than 10 years, donating time, labor and the use of the Joint Council's truck to help deliver food and supplies to those most in need.
"Teamsters are always happy to participate in something so worthy that helps so many of our friends and neighbors," said Brett Miller, President of Local 340. "It is what we do, and it is even more needed right now. We always hope none of our members need this help, but if they do, we know it is there and we are doing our part to make sure of that."

In the past, the two organizations have held an annual Statewide Food Drive which concluded at the Maine Potato Blossom Parade in Fort Fairfield, Maine. Due to COVID-19, the 2020 parade was cancelled, but the demand for food and donations for those in need has only increased during this crisis.
"We have a tremendous amount of gratitude for the relationship we have with the Teamsters," said Judy Katzel, spokesperson for Catholic Charities Maine. "We couldn't do something of this magnitude without this support from Teamsters Local 340 and Joint Council 10. Working with the Teamsters, we are literally able to feed thousands of people across four states with just one drive."
Equity Through Connectivity
Local 502/Commonwealth Association of School Administrators (CASA) members joined with political, community and labor leaders in August to call on Comcast to provide reliable, high-speed internet access to thousands of students at the School District of Philadelphia who cannot participate in distance learning.
Wearing masks and holding signs that read "Equity Through Connectivity," principals, administrators, teachers, building engineers and climate managers for the school district, who are represented by Local 502/CASA, joined with parents and students outside the Comcast Center, calling on the country's largest cable provider to make a greater investment in the community.
"If you look at PEW Research Center, Black and Brown families are at a disadvantage when it comes to internet access; many only have access through a mobile device. Large corporations like Comcast and Verizon do not run the newest equipment in high poverty and rural areas. This is not just an urban issue. The lack of high-speed internet in these communities puts our students at a disadvantage," said John W. Spencer, a School District of Philadelphia principal and member of Local 502/CASA. "In order for virtual learning to work, students need reliable internet that allows access to video, audio and other interactive media. We are calling on Comcast to make a bigger investment in the community and our children."
In late July, it was announced that Philadelphia public school students will not return to classrooms until November at the earliest and that students will continue distance learning until schools reopen.
"It is unacceptable to deny any student an education. Education is a right, and we have a moral obligation to stand up for our children in Philadelphia and their families. This shouldn't be about dollars and cents; it's about taking collective responsibility to do what is morally right. What's right is for Comcast to remove any barriers to reliable, high-speed internet access. The end justifies the means," said Dr. Robin Cooper, President of Local 502/CASA in Philadelphia.
Local 502/CASA represents approximately 700 school administrators who work in the School District of Philadelphia as principals, assistant principals, facilities area coordinators, climate managers and school police, food service supervisors, early childhood supervisors, leadership coaches and curriculum specialists.
Following the rally, the deputy mayor of Philadelphia reached out to the Teamsters Union to share that Comcast will soon announce it is providing internet access for the 35,000 kids with the most need.
Statewide Standards
Virginia became the first state in the nation to establish workplace safety coronavirus standards in July, a move demanded by workers, grassroots organizations and unions like the Teamsters.
The Virginia Department of Labor and Industry's Safety and Health Codes Board voted July 15 to approve an emergency temporary standard on infectious disease prevention after Gov. Ralph Northam (D) directed the creation of enforceable regulations in May. The standards will remain in effect for six months but can be made permanent through a process defined in state law.
But all of this would not have happened if workers in Virginia's food chain industry hadn't stood up to demand safer conditions, and if workers, community organizations and labor unions hadn't pushed back on efforts by the poultry industry to water down the new rules.
The Teamsters have been pushing for safety in the food supply chain since the beginning of the pandemic. In June, Teamsters working in the food supply chain in more than 30 cities across the country rallied to demand change in the wake of recent COVID-19 outbreaks in the food industry, specifically the need for enforceable safety standards, government funding for paid sick and family leave, hazard pay, access to PPE and testing capacity.
"The union argued Virginia should enshrine the science-based safety standards into law so workers, communities and business in the state could be protected. Now all workers there can benefit," said Christy Bailey, Director of the Teamsters Department of Political and Legislative Action.
Assisted by the Northern Virginia Labor Federation, the Teamsters delved in and gave a greater voice to its 3,000 food processing workers impacted in the state.
"More often than not, the voices of workers are not heard. It is for this reason Joint Council 83 has worked hard to increase Teamster political presence and power in Virginia. All workers deserve to be treated with dignity and respect. The recent victory for Virginia workers shows the power of persistence," said Brian Peyton, political coordinator at Joint Council 83.
"The COVID-19 pandemic has taught Americans just how essential some jobs are. This victory for Virginia workers shows exactly what can be accomplished when powerful coalitions stick together for a common good," said Ritchie Brooks, Vice President of Joint Council 55.
Families First
In Colorado, Gov. Jared Polis signed two bills strongly supported by the Teamsters into law recently that will guarantee paid sick leave and expand unemployment payments at a time when those on the job are particularly vulnerable.
As part of the sick leave legislation, all state employers must provide paid leave in accordance with Congress' "Families First" bill through the end of 2020, removing the cap that limited it to employers with under 500 workers in the federal legislation.
Additionally, the new law mandates that employers with 16 or more workers provide paid sick leave beginning Jan. 1, 2021, and that all employers regardless of size must begin providing leave on Jan. 1, 2022. The formula laid out calls for one hour accrued for every 30 hours worked up to 48 earned hours per year, or approximately six paid days annually.
Senate Bill 205 is historic legislation that is improving the health and safety of all workers in Colorado who haven't been covered by paid sick leave in the past. It could not have been signed into law had Teamsters in the state not been successful in electing worker-friendly legislators in 2018.
Meanwhile, the unemployment measure expands what an individual can make and still be eligible for unemployment insurance, increasing the threshold to 50 percent from 25 percent of the benefit amount. The increased payment level will last for two years.
The legislation also expands what constitutes "good cause" to quit a job and still be eligible for unemployment, including employers not following safety and health guidelines, child-care issues due to school closings, and caring for sick family members, among other things.
The Teamsters for years have pushed for the passage of similar legislation at all levels of government because it is the right thing to do. These victories in Virginia and Colorado are only the beginning. The Teamsters are bringing the fight for beefed up safety regulations not only to states like Colorado, Oregon, Wisconsin and California, but the nation's capital as well, where the union has joined with other labor allies in pushing for a temporary standard overseen by the Occupational Safety and Health Administration.
"Workers deserve to be treated with respect and dignity. That only happens when they can care and support themselves and their families. Those needs have become even more important during this coronavirus epidemic," Hoffa said.
Teamsters Win Despite the Odds
In Midst of Pandemic, Workers Want Representation
When the coronavirus landed in North America and cities from coast to coast entered into some level of quarantine, anti-union forces hoped that the efforts to build worker solidarity had gone the same way as bars and gyms.
Fortunately, Teamster organizing victories proved those hopes to be nothing more than wishful thinking.
The pandemic gave school bus and transit drivers a whole new host of concerns regarding safety on the job, so it wasn't a surprise that many of these workers found a way to win union recognition in spite of a nationwide lockdown.
When drivers at MV Transportation in Ft. Walton Beach, Fla. won their NLRB election to join Local 991 in May, Florida was averaging over 700 deaths per day from COVID-19. Driver Dyllon Offield indicated that a voice on the job was essential for safety at MV Transportation.
"We joined the Teamsters because we needed to have something that is there for us, not just for the company," Offield said. "We want protections, better compensation and to be treated equally and fairly. That's why we reached out to the Teamsters. There's nobody better for us to have in our corner."
A couple of weeks earlier, school bus drivers and monitors at A&S Transportation in another COVID-19 hotspot, New Orleans, had also won an election.
"We want to have a platform in order to present ourselves," said driver Harold J. Fedison. "Whether it's individually or as a group, without a union you are under an employee-at-will policy, but with a union you have a voice on the job."
Transit and school bus drivers weren't the only workers winning union elections during the pandemic. Public defenders of Santa Rosa, Calif. voted to affiliate with Local 856, a group that joined over 300 workers who joined the local union in 2020 alone.
"The association chose to affiliate with Local 856 to align with an organization that has a proven record of providing aggressive representation for members in the public sector," said Matt Finnegan, Teamsters 856 Staff Attorney.
Those are only three of more than 35 organizing victories that the Teamsters secured since the pandemic started.
"No matter what the world throws at our union, we will never give up the fight," said Jim Hoffa, Teamsters General President.
« Previous
Next »